Korea DPR U17 v Niger U17
U17 World Cup: DPR Korea 0-1 Niger - Team Mena promise to keep punching beyond their weight, as Chollima lick wounds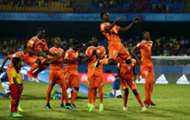 Kochi's persistent humidity didn't damp the second offering at the Jawaharlal Nehru stadium in Kerala, where Niger's U17 capsized the Democratic Republic of Korea's U17 challengers by a 1-0 scorelinem, on saturday, 7th October, 2017.
Salim Abdourahmane scored the only goal for the Menas in the 59th minute, in what was to be a brilliant U17 World Cup debut for the African side. Their coach, Tiemogo Soumalia, was in ebullient mood post the coup and stated, "We are very happy with this victory. Thank you for the welcome. This is our first match in the World Cup."
Unfazed by the competition ahead of his young team, the gaffer expressed optimisim. "It is true that Brazil and Spain are sporting countries. Because since we are playing the U-17 category, the competition is open to everybody."
He further added, "We have never attended such a tournament. We have beaten Nigeria, who are the defending champions."
Commenting on the a sense of profligacy in the team in front of goal, the coach explained, "We have created a lot of chances. Nobody will say we did not deserve the win."
Fianlly, quizzed on the conditions at the venue, the answer was short and simple. "It's not the same as in our country. It's hot and humid. This could be the reason we faced a lot of injuries," concluded the winning coach.
DPR Korea's coach on the other hand was left with picking up the pieces of his team's confidence.
"There were so many goalscoring chances for the team but we couldn't make it a goal. It was only one goal and it was an easy goal. I will do my best for the next two matches," promised a fcused yet disappointed Kim Yong-su.

On the curious move of replacing a substitute with another substitute, the coach was blunt in his opinion, "Number 12 was not the best player. Number 10 was the better player but he was injured. Hence the change had to be made because he was not good enough."
Finally, the coach concluded his team may have been outdone on the night but looked foerward to the other games in their group.
"Niger is a very strong team. We just have to do our best for the next matches," signed off Yong-su.