U17 World Cup
U-17 World Cup: Box office launched at Delhi, physical sale of tickets to begin Sept 21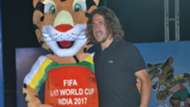 As the FIFA U-17 World Cup is about to kick off in less than three weeks, the buzz around the biggest honours in youth football has risen in the host nation. With the capital city of New Delhi hosting the ties of home side India, the excitement has been doubled in the northern state. To add to it, the football fans in Delhi will now have another chance to book their place in history as the physical sales of tickets for the New Delhi games of the FIFA U-17 World Cup commences on September 21, with the launch of the Box Office at the Jawaharlal Nehru Stadium. The ticketing counters, located at Gate no.15 of JLN Stadium, will be open from 10 am to 6 pm, beginning Thursday.
Project Director of the Local Organising Committee for tournament, Joy Bhattacharjya commented, "We are aware that a substantial number of fans are more comfortable with buying at the box office and wanted to make sure they had this opportunity. The box office has been very successful when introduced in Goa and we are sure it will have a similar impact on the sale of tickets in Delhi.''
The tickets will be sold at discounted rates till 5th October and are priced at INR 150 per matchday for Category 3 seats in North, South and East stands and INR 300 per matchday for Category 2 seats in the West stands. Category 1 tickets are priced at INR 600 per matchday in West stand and Category 4 at INR 60 per matchday both in North and South stands.
The Jawaharlal Nehru Stadium in New Delhi will host eight matches in what will be India's first FIFA tournament, from October 6 to October 16, including all three of India's Group matches. New Delhi hosts the following matches and tickets for all are currently available at the Box Office counters​.​
October 6 – Colombia v Ghana, India v USA
October 9 – Ghana v USA, India v Colombia
October 12 – Mali v New Zealand, Ghana v India
October 16 - Round of 16 matches (2)
Tickets for all the fixtures at the six host cities, including New Delhi, are available here.