Arsenal
Two goals & one assist in 15 elite UCL games - Ozil must prove he's not a big game flop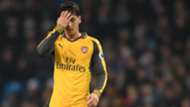 ---
COMMENT
---
How do you solve a problem like Mesut Ozil? Worryingly, not even Arsene Wenger is sure anymore.
Why Arsenal should have signed Draxler
The Germany international has already scored more goals this season (9) than in his three previous campaigns at the Emirates, while he racked up more assists (36) in his first 100 Premier League games than every other centurion except for Eric Cantona (39) - yet his performances of late have been so poor that Wenger felt obliged to have a chat with his playmaker on Friday.
Wenger wanted to get to the root of Ozil's dramatic dip in form; to lift his spirits ahead of Saturday's Premier League meeting with Hull City. He failed on both counts, with Ozil turning in another ineffective display against the Tigers.
Wenger admitted afterwards he was at a loss to explain the former Schalke starlet's sudden loss of self-belief. "It can happen," the Frenchman admitted. "But I don't know any specific reason [for it].
"I felt he did not feel confident. It's always a problem because you think he can deliver something special but it's true that, technically, he was missing things that he is not used to [missing]."
Football Manager predicts CL winner
Of course, Ozil's critics will once again argue that he is simply conforming to type; that he is not a man to be relied upon; that he goes missing when Arsenal need him most.
It is an allegation that has dogged the attacking midfielder since he arrived in north London in 2013, an eagerly anticipated £42.5 million (€47m) signing from Real Madrid.
Former England boss Glenn Hoddle raised the issue once again after watching Eden Hazard inspire Premier League leaders Chelsea to a 3-1 win over Arsenal at Stamford Bridge just over a week ago.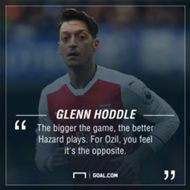 "The contrast with Mesut Ozil was unavoidable," the ex-Tottenham ace argued. "The bigger the game, the better Hazard plays. For Ozil, despite his record as a World Cup winner and a Liga champion, you feel it's the opposite."
Certainly, since arriving at Arsenal in 2013, Ozil has often underwhelmed in the Gunners' biggest games.
In total, he has lined up against the five other members of the Premier League's big six (Manchester United, Manchester City, Liverpool, Chelsea and Tottenham) 32 times in all competitions. He has managed five goals and eight assists in those games.
Zlatan: I have to score 100 goals!
He has never finished on the winning side against Tottenham in the league. Indeed, with Ozil in the team, Arsenal have lost more EPL games than they have won against all five of their biggest rivals - bar Liverpool.
Of course, Wenger will argue that blaming Ozil for Arsenal's poor record is unfair, further evidence of the desire to make the 28-year-old the scapegoat for the Gunners' perceived deficiencies, and it is true that Ozil cops more flak than others after an Arsenal setback.
Everyone has an opinion on the club's record signing and they're not always positive. Even Labour leader Jeremy Corbyn recently got involved in the ongoing debate over Ozil's contract extension, arguing that the German should be happy with the money that he's already on, while former Gunners centre-half Martin Keown has claimed that Ozil would not have got into the 'Invincibles' side that went undefeated through their 2003-04 league-winning campaign.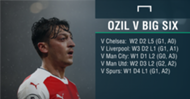 There is a perception that Ozil simply doesn't work hard enough and that he is given special treatment by Wenger, claims that the Arsenal boss has always strenuously denied.
"I don't give him any leeway," he insists. "Ozil has to do his work like everyone else and usually he does it well.
"His main strength is when we have the ball and he suffers more than others when we don't have the ball but I think he is a guy who works much harder than people think.
"His body language speaks against him but Mesut does his part of the job very well."
Arsenal goalkeeper backs Wenger
However, Ozil will always be judged by his numbers and there is no denying that they are unimpressive against high-quality sides. It is telling that he has accrued just two goals and one assist in 15 Champions League outings for Arsenal against elite European sides (Napoli, Borussia Dortmund, Bayern Munich, Barcelona, Monaco and Paris Saint-Germain) over the past four years.
Ozil could, thus, do with a big game in Bavaria on Wednesday. He has featured in three last-16 ties since joining Arsenal, against Bayern, Monaco and Barcelona. Arsenal haven't won a single game - home or away - and Ozil hasn't contributed a single goal or assist.
Wenger claimed last week, "Ozil is an important player, a big player, and big players always respond on the pitch." Essentially, Ozil has become a problem that he himself can answer at the Allianz Arena. Over to you, Mesut...