KPL
Tusker set to host Malawian side Silver Strikers FC in an international friendly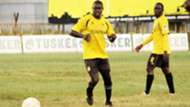 Former Kenyan Premier League side Tusker are set to host the 2017 Malawian Airtel Cup champions Silver Strikers FC in an international friendly match.
The game will be staged on Friday at the at Ruaraka grounds in Nairobi. The buildup match will be the first real test for Tusker ahead of the 2018/2019 Kenyan Premier League season set to kick off on December 8.
Tusker head coach Robert Matano will use the game to test his new signing as the Brewers readies for the new campaign which is barely two weeks. The game will also give Matano a sense of what he should expect from his players in terms of squad competitiveness.
Silver Strikers FC have won eight Malawian Premier League titles, two Malawi FAM Cup, one for BP Top 8 and lastly the recent Airtel Top 8.
The Malawian's representatives at the 2018 CAF Confederations are heading to Gabon where they are set to play Cercle Mberi Sportif on 27th November.