PSL
Tinkler: Cape Town City midfielder Ngoma is my PSL Player of the Season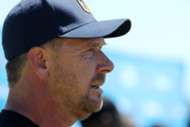 Cape Town City's inaugural Premier Soccer League (PSL) campaign has undoubtedly been one to remember.
Despite falling at the last hurdle in pursuit of the title, the Citizens fought valiantly and much of their success was down to the impressive displays of Lebogang Manyama and Aubrey Ngoma.
Subsequently coach Eric Tinkler was asked who his pick would be for the PSL Player of the Season and after much thought the coach responded with Ngoma. Nonetheless, the coach also chose the moment to hail the talent of his reported target Percy Tau.
"Now you're putting me under pressure," Tinkler told the media.
"Obviously, Aubrey Ngoma and Lebogang Manyama have both been fantastic for us, but I also think Tau (Percy) has been phenomenal for (Mamelodi) Sundowns. He is a huge talent," he said.
"But, overall, in my opinion, I would say Ngoma. Taking nothing away from what Manyama has done, but Ngoma has been consistent throughout the season in terms of the goals and assists he has provided," Tinkler added.
Speaking of Manyama, the coach also admitted that at first he held a negative perception of the 26-year-old but after witnessing his work ethic Tinkler hasn't looked back since.  
"You could always see the talent, but I had always been a bit negative about Manyama, when looking from outside," the City coach added.
"But once I got to know him as a person here at City, and saw his work ethic at training, I knew that he was a player who needed to be challenged and that is why I made him the captain. And he has certainly led by example," Tinkler concluded.