MLS
'I felt sharp' - Tim Howard looks strong in return from four-month injury layoff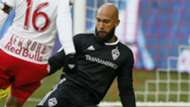 HARRISON, N.J. — Four months after limping off the field in Columbus, Ohio, during the U.S. national team's World Cup qualifying loss to Mexico, Tim Howard returned to action — and he may be back just in time for the next qualifiers.
Robles set MLS iron man record
Howard started in the Colorado Rapids' 1-0 loss to the New York Red Bulls, and while he couldn't help his team avoid defeat, he still looked sharp in his return to action. Howard made seven saves and moved around well on a frigid day that saw temperatures drop into the mid-20s.
"I felt good, I felt sharp," Howard told Goal. "Ticked a lot of boxes. It's not like I've just come off the couch. I've been training at least a month now. I would have liked to have gotten some games in preseason, but that's not the case here, and my hands were tied a little bit in terms of trying to get reserve games. We made it work, and I felt, certainly going into it, that I was sharp."
"It was mostly about how he felt, and making sure he was completely recovered from the injury, and not having to think about whether or not he can kick the ball because he wasn't there yet," Rapids coach Pablo Mastroeni added. "He felt great this week, and I think he's ready to rock."
It took less than two minutes for the Red Bulls to test the 38-year-old goalkeeper, with Bradley Wright-Phillips latching on to a loose ball in the penalty area and forcing Howard into a kick save.
"I prefer not to let Bradley in in that type of scenario, but it was a good 'welcome back' moment," Howard said. "At least I made the save."
Howard denied Wright-Phillips again in the 23rd minute when the Red Bulls striker collected a chipped pass directly in front of goal. After outmuscling Axel Sjoberg, Wright-Phillips had his shot denied by Howard.
Wright-Phillips had one more chance to beat Howard in the 73rd minute, but his hard-hit near-post shot drew another excellent reaction save.
Tim. Howard. #NYvCOL https://t.co/GwY5vin6WE

— Major League Soccer (@MLS) March 11, 2017
The only goal Howard allowed came off the foot of a teammate, when Eric Miller redirected a dangerous cross in the 45th minute to give the Red Bulls a 1-0 lead they protected for their second straight win.
The cold temperatures were certainly not an ideal setting for a player returning from a long-term groin injury, but Howard had enough confidence in his health to make the start.
"Yesterday, when it snowed, it wasn't ideal, and I knew how cold it would be today," Howard said. "I would have preferred a game in Orlando or Houston, but I felt healthy so I just figured I'd go with it and get myself as warm as possible."
The match ended in disappointment for Howard, but the silver lining was that he looked good after a four-month layoff following groin surgery. With the important March qualifiers looming, and the U.S. goalkeeper position an unsettled one due to Brad Guzan not playing regularly for Middlesbrough and Howard having been sidelined, Howard's performance Saturday was a big step toward a national team return.
"I want to be healthy, and I want to be playing well. I'll wait and see," Howard said. "I still wait for the emails. Obviously that's a question for Bruce. Hopefully I'll do enough to get an opportunity if I'm healthy."
With one more match — at home against Minnesota United — between now and the crucial World Cup qualifiers against Honduras and Panama, Howard believes he is ready to return to the national team and help if called upon.
"I'm 38, I'm not sure I'll ever be 100 percent again, but I feel like I can get the job done," Howard said of a potential national team return this month. "I wouldn't go out there if I couldn't."