A-League
Throwback Thursday: The last time Newcastle Jets played an A-League final
If it feels like it's been a while since you last saw Newcastle Jets play in the A-League finals, that's because it has been - eight years and one month to be exact.
The match was in the 2009/10 season and saw a Jets side that finished the regular season sixth travel to Wellington to take on a Phoenix side that had placed fourth.
Both sides won their first finals matches on penalties the week prior and faced off in front of a vocal 32,000-strong crowd at Westpac Stadium for a spot in the preliminary final.
While a Wellington side coached by Ricki Herbert started the game on the front foot, Branko Culina's Jets would strike first through skipper Matt Thompson in the 20th minute.
Tim Brown would rightly pull the Phoenix level before the break as both sides failed to add another in the second half - Paul Ifill going agonisingly close with the final play of regular time.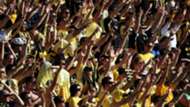 Having come to Wellington after a stint with Crystal Palace, Ifill would not be denied in extra time slotting home late in the first period after both sides had hit the post.
Eugene Dadi would then seal a 3-1 win for the Phoenix with a 115th minute tap in as the Jets got what would be their final taste of finals football in a very long time. 
Check out the highlights below.