Costa Rica
The World Cup starts now - Neymar and Brazil arrive at training camp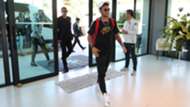 Brazil's World Cup campaign kicked off on Monday as the squad arrived at the Granja Comary training complex in Teresopolis to begin their Road to Russia.
And the most anticipated attendee was among the first arrivals, as Neymar flew in via helicopter alongside Douglas Costa, Renato Augusto and Thiago Silva. They will be joined by other players for the squad's first medical evaluation, due Monday evening.
Coach Tite and his staff expect are eager to assess the fitness of PSG star Neymar, who began training with a ball in France last week but is yet to make an appearance since picking up a foot injury in February that required surgery.
Granja Comary - Brasil's World Cup training camp is underway #SeleçãoBrasileira pic.twitter.com/37HRGN4WgZ

— Brasil Global Tour (@BGT_ENG) May 21, 2018
Several Spanish journalists joined the local media at Granja, keen to track Neymar's progress as speculation continues over a muted transfer to Real Madrid which PSG have denied.
"I came to watch Neymar closely, to see how he is physically, if he has recovered from the injury, and also hoping to get some news on his future. We came to be close to him, but also to other players who play in Spain, such as Filipe Luis, "said Virtudes Sanchez of Marca.
The players will be assessed on Monday and Tuesday before Wednesday sees Tite hold his first full training session of their pre-World Cup preparations.
All the attention on Monday was focused on Neymar, but he and the rest of those already to have reported at Granja have thus far maintained their distance from the media as they settle in for the week ahead.
CBF technical director Edu Gaspar spoke to the media - emphasising the seriousness with which work ha now begun for both the players and the staff and that they are fully focused on the upcoming Brasil Global Tour friendlies that will serve as Brazil's World Cup warm-ups.
"Today, we talked about playing those two games as if they were the World Cup," he said.
"We studied those two teams tactically and saw they were ideal opponents. For now, they are more important than our [first game of the World Cup]."
Brazil face Croatia on June 3 at Anfield, Liverpool, before meeting Austria on June 10 in Vienna. The five-time world champions meet Switzerland, Costa Rica and Serbia in their World Cup group.
Edu also highlighted the importance of maintaining the healthy relationship with the local press, which has been repaired immeasurably since Tite's June 2016 arrival.
"Tite's big challenge is to make the team play how they did in qualifying," said Mauro Naves of Rede Globo. 
"He has 20-odd days to do that. His preparations must go well to ensure Brazil arrive at the World Cup in form."
#Brasil's Granja Comary home this week in Teresópolis

Not a bad way to kick off your #WorldCup2018 prep
Pedro Martins / MoWA Press pic.twitter.com/nXwKMhEvAo

— Brasil Global Tour (@BGT_ENG) May 21, 2018
ESPN reporter Cicero Melo added: "It really is the beginning of the World Cup, because the Copa is not only the games - this period of preparation here is very important, as they get together, begin to live their daily lives with one another and train both with and without the ball. 
"The friendlies will against Croatia and Austria will also be very important. Brazil must use them to prepare and cement their team, removing any doubts Tite may still have."
Edu also confirmed a training session this week will be open to local fans, as has become customary during the Selecao's stays in Teresopolis.
Follow Brazil's World Cup preparations by joining us on Twitter, Facebook and Instagram.