Ederson Moraes
The solution to Man City's problems? Ederson convincing the best with Benfica displays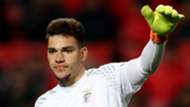 ---
COMMENT
---
After patiently waiting for his time to shine at the top level, it has taken just one year for Ederson Moraes to earn a reputation as a goalkeeper destined for the top.
When he arrived at Benfica from Sao Paulo as a supremely talented 16-year-old, making headlines in the youth team when he scored from a clearance in his own box, big things were expected of him. Almost eight years later, he has convinced many there is something special to him, but his rise has not been all smooth. 
Ibra won't rule out Napoli move
After two years with the Lisbon giants, the club decided to cut him loose and he ended up in the third tier with Ribeirao. After just one season, he earned a move back to the top league with Rio Ave in 2012, but Benfica again helped ensure he would have to wait for first-team football as Jan Oblak joined on loan and took up the No.1 spot.
The next term, he looked stuck behind Romain Salin in the pecking order, but got his chance when he replaced him against Sporting Braga in November and had become the undisputed goalkeeper within weeks.
It looked like his time had come, but Rio Ave's poor results continued and veteran fellow Brazilian Cassio was signed in the close season, taking over as first choice. After Cassio conceded eight goals across two games, Pedro Martins gave Ederson his chance and he played for the rest of the season.
Rio Ave were desperate to keep him – tying him to a long-term contract – but a few months later Benfica had fallen in love again and lured him back as his cousin Artur departed after four years in goal there.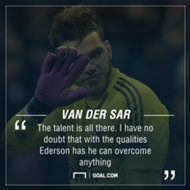 The Brazilian did get to mix with family of sorts upon his return, as he welcomed experienced compatriot Julio Cesar as his "brother". The presence of the former Inter star saw Ederson restricted to the bench, but he saw an opportunity and bided his time.
"I always learn from Julio Cesar and I learn more from watching him than from talking to him," he told Renascenca. "I gain a lot of experience when I train with him."
When Cesar picked up an injury in March 2016, Ederson was fielded against league leaders Sporting, looking composed in goal as Benfica took over at the top with a 1-0 victory. They went on to win the Primeira Liga with a 10-game winning streak and the Taca da Liga after a Champions League quarter-final defeat to Bayern Munich, with Ederson a secure presence throughout.
A year later, now 23, he is being talked about as a potential €40 million signing for Manchester City, with Real Madrid, Barcelona and Inter also mentioned. After a long wait for his big break, the attention has rapidly reached extremes, but Ederson already has the approval of some of the biggest names in football, as well as many opponents.
Julio Cesar sees him as his heir at Benfica and as a future star for the national team – he would have gone to the 2016 Copa America had he not picked up an injury. Edwin van der Sar sees greatness, as does Brazil all-time great goalkeeper Emerson Leao.
RUMOURS: Pep set for City clearout
His display in the 1-0 Champions League win over Borussia Dortmund last month left counterpart Roman Burki, as well Jose Mourinho, seriously impressed, as he made five saves and stopped a Pierre-Emerick Aubameyang penalty.
"He's a top goalkeeper and he played very well. I had known about him before and knew how he plays and it was thanks to him that Benfica did not lose," said the Dortmund keeper.
The Manchester United coach mused: "Goalkeepers are there to defend and save the team when circumstances require it. The kid Ederson did it."
His coach, Rui Vitoria, was glowing with his praise: "We faced one of the best teams in Europe, with a very high dynamic of play, with attacking players of great speed and depth who would create problems for any team in Europe. Ederson put in a wonderful performance, but he is at a very high level and that's why he's here."
He was less impressive in the return game in Germany, shipping four goals and looking lost by the end of it, but he had already raised his profile immensely. Other than his frequent punching clearances, his performance in the home leg was of the kind he has shown several times this season.
How Pogba's first season measures up
He is quick off his line and catches attackers off guard as he closes in, but he tends to go down too quickly, which is a shame because he has shown to be effective when he makes himself big and tightens up all angles as he approaches. He is daring, but times his challenges well, and he does not discriminate with his saves – making use of his frame, he'll throw any body part necessary to deal with shots from close range.
The links to Man City, apparently the main suitors, make sense given Pep Guardiola's affinity for technical goalkeepers. It is an aspect of his game Ederson has been working on since he was a child and makes him integral to Benfica given how comfortable he is with the ball and in helping build attacks.
His long kicks and throws can come in handy with quick advances, too. As Claudio Bravo has not proved as reliable as Guardiola hoped, Ederson has it all to be a long-term option for a team of that level.
"He has personality," former Brazil coach Dunga said of him. "He comes out of his goal, he has a good reading of the game. In modern football, a goalkeeper must know how to play as a last defender and he possesses these characteristics."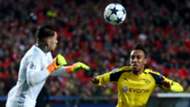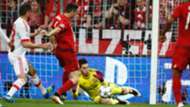 Goalkeepers with such energy tend to be erratic and the margin of error is slim in some of the situations Ederson puts himself into as he comes rushing out to back up the high defensive line or waits until the last second before making a dive at an opposing striker's feet.
His judgement is good, but in a more challenging league and against faster, more technical opponents he may be more at risk of being caught out. He has had nervy starts before, though, and adapted quickly.
Van der Sar is sure it's a step he can deal with. "Ederson has already shown in the Champions League that his talent is undisputed," he told DN. "He is always focused and has an excellent reading of the game, even without the ball.
"I think this is odd. It's not easy for a goalkeeper to be focused for 90 minutes when the ball is mostly on the other side of the field, especially when playing in strong teams.
Neymar leads CL team of the round
"The English league is very different to the Portuguese one, with other types of players, more pressure, more intensity and with much more work. I think Ederson needs another kind of challenge to feel another kind of pressure. But the talent is all there, he only needs to prove it under other conditions. I have no doubt that with the qualities he has can overcome anything."
He is not the only goalkeeping legend to tip him for the top level. "It will be almost impossible to keep Ederson at Benfica," Emerson Leao says. "Clubs are betting more on youth than they used to and when you have talent like Ederson it makes it easier to take chances, I'm sure he will end up at one of the best clubs in the world."
Speculation has been building for some time. Although Benfica held off talks of a January move by committing him to a new deal that month, his stock is rising all the time - he is in the squad for Brazil's World Cup qualifiers against Uruguay and Paraguay and is tipped to be the Selecao's No.1 for the next decade. Already in contention for a starting spot, his time will come there too and he could secure his place in an otherwise settled side under Tite.
A big move seems imminent for the Brazilian, and although Benfica can demand a high fee if they want to hold off the lurking giants of Europe for another year, the intense competition for his signature could prompt some big offers when the transfer window reopens.