The miracle of Accrington Stanley - and how Liverpool fan John Coleman has made it happen
Last Updated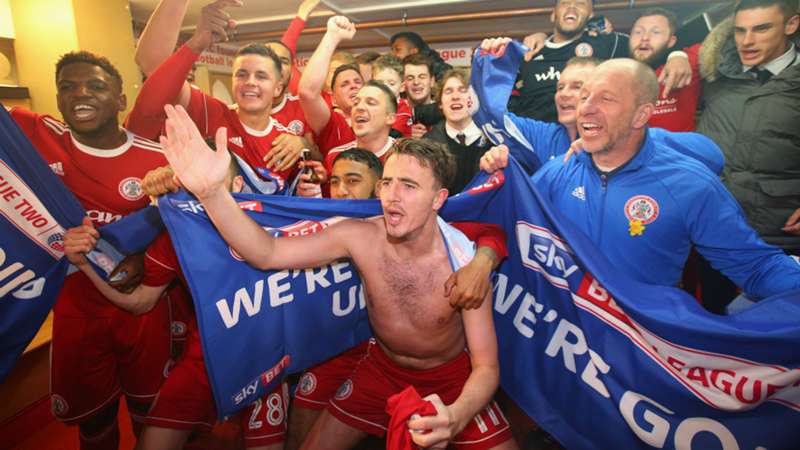 Getty Images
The board room at Accrington Stanley is like pretty much everything else at the club: small, unassuming and humble.
It was here, back in August, that John Coleman held the meeting which would come to define Stanley's season.
He sat down his players, his coaching staff, his chairman and his owner. He even invited the kit man. The message was clear, unequivocal. 'Little Accrington' were thinking big.
"I told them we were going for automatic promotion," Coleman tells Goal. "We said 'look, we've got to have a proper go at this'. We had to act like promotion candidates, the players had to live like promotion candidates, they had to stick their chests out when they played and create that fear factor.
"We needed everyone pulling in the right direction and playing their part. That's what we've had."
He can say that again. On Tuesday, they achieved their aim. A 2-0 victory over Yeovil Town at the Wham Stadium ensured they will be playing in League One next season. Coleman's dream has been realised with four games to spare.
It's a remarkable story. Football, we are regularly told, revolves around money, yet Accrington continue to make a mockery of that idea.
Their budget is, along with Morecambe, the smallest in League Two. There are clubs in the Conference and even the Conference North with greater resources than the Lancastrians. Their stadium, capacity a little over 5,000, looks nothing like a League One ground, despite ongoing development work.
And yet, on the pitch they have soared. They are 17 games unbeaten, 15 of which have been victories. The have the league's best defensive record and are nine points from being crowned champions. Their success has been built on continuity, togetherness and trust – from players to staff to supporters, many of whom Coleman classes as friends.
"They have all bought into it," he says. "We had a good run at the back end of last season, and we knew we were capable of competing if we found a bit more consistency.
"We had a blip in December where we lost a few games and we questioned ourselves. I sat our five most experienced players down and I told them now was the time where we needed them. To be fair, it didn't happen overnight, but they got into the lads and led by example. It's snowballed from then."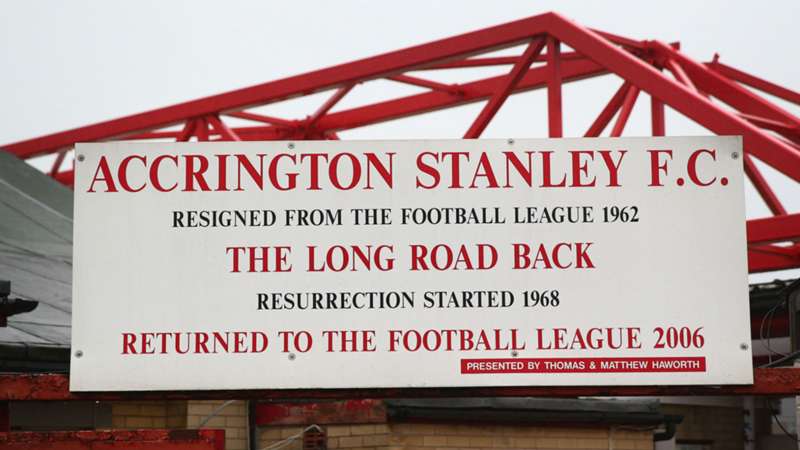 Coleman reflects on the experience of the 2015-16 season, when Stanley were denied promotion on the final day of the season, as a key factor in their success this time around. Fear is a great motivator, and the fear of a repeat this season has focused every Accrington mind.
"It still hurts now to be honest," he says, straight faced. "It was heartbreaking. In the 93rd minute we hit the bar and it gets cleared. That same minute, Bristol Rovers hit the post and score the rebound. That stopped us going up.
"It killed us at the time, and it affected us at the start of the following season, but this season it has driven us on, I know that. We wanted to put it right."
For Coleman, there is a degree of personal redemption too. He's ready for another go at League One, this time on his own terms.
This is his second spell as Accrington boss. He arrived at the club as player/manager in 1999 when they were in the Northern Premier League, and left in 2012 to have a crack at League One with Rochdale. They were 23rd in the table at the time, and heading towards relegation. Coleman, who admits he was unable to "spot the cracks" as easily as at Accrington, could not arrest the slide. His spell at Spotland lasted just under a year.
After that came a stint at Southport, where he kept a poor, under-funded team in the Conference before being criticised by the club's chairma for his 'style of touchline behaviour' and an enjoyable three months with Sligo Rovers in Ireland. He returned to Accrington in September 2014, along with long-time assistant and best friend Jimmy Bell.
"I probably learned more in a year at Rochdale and six months at Southport than I did in the previous 19," he reflects.
"Myself and Jimmy have evolved for the better zover the years. I don't lose my rag as much as I did, that's for sure. I'm not going after referees and opponents as much, I'm focused on the things I can control. I don't know, maybe you just mellow as you grow older!"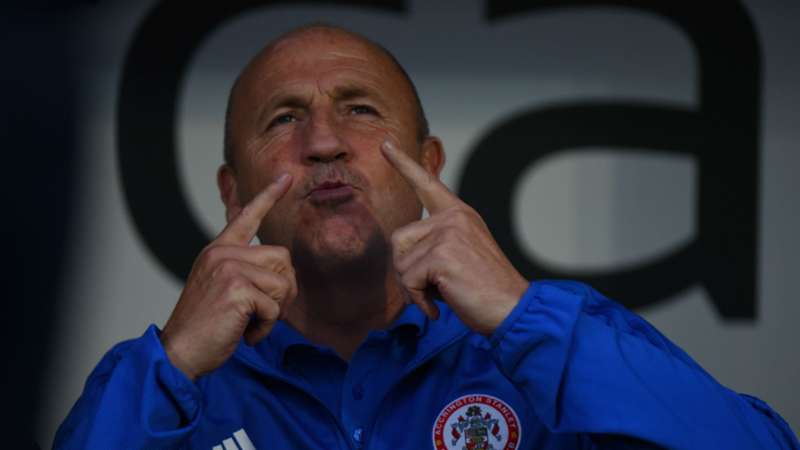 There is pride, understandably, as he reflects on the progress the club has made since he first arrived 19 years ago, and the way they have achieved it. Unlike many more illustrious Football League clubs, Accrington have never used the 'legal tool' of administration to clear their debts and start afresh.
"If someone had said to me in 1999 that we'd be playing Coventry in a league game, beating them home and away, away in front of 25,000, I'd have said they were mad," he smiles. "But that's how far these players have taken this club.
"The new owners came in three years ago and have tried to make us self-sufficient. But before that there was a lot of hard work from a lot of people just to keep the club afloat, and that should never be forgotten.
"Think of all the clubs who have been in administration down the years. Accrington should be a prime target for that, yeah? But we haven't been down that route, where 45 other clubs have used that 'legal tool' to sort their problems. Some of them have used in more than once!
"Of all the things I'm proud of, the fact that I've never taken this club into administration is one of the biggest."
It's been a good couple of weeks for Coleman. Born and raised in Kirkby, he is a lifelong Liverpool supporter. He is enthused by what he sees from Jurgen Klopp's side right now – even if by his own admission, the "chess match" style of the Premier League tends to bore him. "Give me a League Two game," he says. "It's a more exciting product."
He and Bell were at the Etihad Stadium to see the Reds overcome Manchester City last week. They are Anfield regulars, but their life revolves around attending games every night of the week, whether it's the Champions League or the Liverpool County Premier.
"I couldn't be any other way," Coleman says. "I can't relate to people who are not passionate about football. It doesn't make sense to me."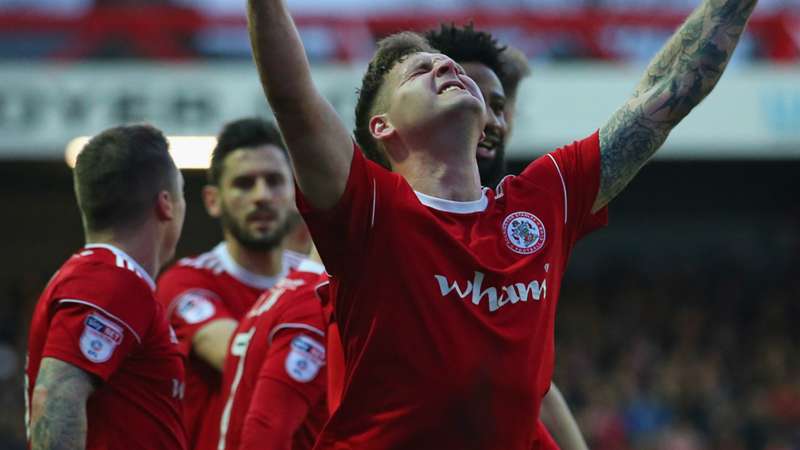 Now, thoughts can turn to the future. Coleman wants the title with Accy, of course, but beyond that he must start to plan for League One, where the likes of Sunderland could be waiting next season. The summer will bring with excitement, but also some difficult decisions.
"One of my big problems will be making sure my head overrules my heart in terms of player recruitment," he admits. "The tendency will be to keep everyone because they've done so well, but realistically not everyone will be good enough to make the step up.
"Honestly, that's a job I'm not looking forward to whatsoever!"
He adds: "I have watched a lot of League One, I go to Wigan when I can because Paul Cook is a good friend of mine. I don't see a great deal of difference between the bottom end of League One and the top end of League Two.
"Obviously clubs like Blackburn and Wigan up the top end, their finances would make your eyes bleed. We're talking wage bills of £15m a year – that's 20 years' worth of money to us!
"At some point, though, you have to compete with these teams. I'm under no illusions. We won't be able to compete with the teams at the top end of League One. But then budget-wise we shouldn't be able to compete with the teams at the top end of League Two, should we?
"At the end of the day, it's football. It's only 11 v 11, isn't it? Bring them on I say."
League One, you've been warned!