Transfers
The Great Wall: Chinese must secure Donnarumma before rebuilding with Aubameyang & Alexis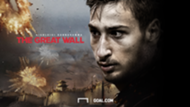 ---
COMMENT
---
Former AC Milan goalkeeper Christian Abbiati knew right away that Gianluigi Donnarumma was something special. "Few people have this kind of quality at 16," the retired 39-year-old enthused in October 2015. "The Lord looked down on him and said: 'You need to be a goalkeeper.'"
His gifts may be God-given but it was Sinisa Mihajlovic who handed him his professional debut. So, the Serb couldn't help but smile when Donnarumma saved a last-minute penalty from Andrea Belotti to earn Milan a 3-2 victory over Mihajlovic's new club, Torino, on the opening day of the current Serie A campaign.
Allegri shows Bonucci who's boss
The former Rossoneri coach joked that he never would have put his neck on the line for Donnarumma if he had known that this was how his protégé would repay him.
 
"When I played Gigi, [Milan owner Silvio] Berlusconi came to Milanello twice to tell me that I had to play Diego Lopez," Mihajlovic revealed in an interview with the Corriere della Sera in November.
"I told him that he had two options; one was to fire me and put Diego Lopez back in the team; the other was to keep me and see Donnarumma play. Fortunately, he decided to keep me and see Gigi play."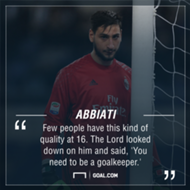 Berlusconi is not a man who likes to be proven wrong but even he immediately conceded that Mihajlovic had made the right call: Donnarumma was prodigiously gifted. Of course, Mihajlovic didn't last much longer at San Siro but Donnarumma is still there – and should be for many, many more years to come.
Indeed, Paolo Maldini is hopeful that the Neapolitan will follow in his illustrious footsteps by spending his entire career with Milan. However, like everything else in football, Donnarumma's future will be decided by money.
Earlier this week, it was reported that the Rossoneri will have €130 million to spend this summer, once the club's new Chinese owners, Sino-Europe Sports (SES), finally complete their incredibly protracted takeover of the seven-time European champions on March 3.
Barca & Messi heading for divorce?
 
Stellar names such as Pierre-Emerick Aubameyang, Alvaro Morata, Sergio Aguero, Alexis Sanchez, and Cesc Fabregas are already being bandied about and it is certainly imperative that Milan spend big: firstly to strengthen an exciting young side lacking experienced, proven performers but, secondly, and more importantly, to persuade Mino Raiola to keep Donnarumma at the Giuseppe Meazza.
The Italian-born super-agent has already made it clear that his young client's future depends on whether the Chinese owners restore the Rossoneri to their former glory. "We will have to see what will become of this Milan before we make our assessments," Raiola warned in November.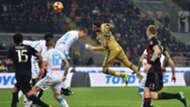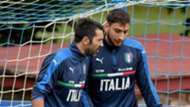 Certainly, Donnarumma has no shortage of suitors. Manchester United, Real Madrid and Juventus are all believed to be interested in a player that Raiola (continuing his tradition of comparing his clients to works of art) says is "a Modigliani" and already worth €170 million.
However, given that his current contract expires in 2018, Donnarumma's market value is actually much lower than Raiola's lofty estimation, which makes him a very attractive prospective signing for Europe's elite – and Juve, in particular.
It is clear that Gigi Buffon cannot continue forever – even though he actually seems to be winning his one-man battle against the ravages of time – and the Bianconeri and Italy captain has spoken glowingly of Donnarumma, labelling his "little brother" his natural heir.
Barca ditch 4-3-3 in tactical revolution
Certainly, Donnarumma will succeed Buffon as Italy's No.1 after next year's World Cup but Juve would also like to see him take over in Turin too, with director general Beppe Marotta coyly commenting in November that, "We are always interested in the best."
Nobody was in any doubt that that was a direct reference to Donnarumma, who is undeniably the best young goalkeeper in the world right now, with Milan boss Vincenzo Montella even going so far as to claim that the Neapolitan could become the first shot-stopper since Lev Yashin in 1963 to win the Ballon d'Or.
Milan CEO Adriano Galliani has previously laughed off the idea of Donnarumma departing for Turin, "You must be joking; he is a Milan player." Nobody at San Siro is laughing now, though.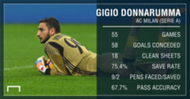 It was hoped that Donnarumma would sign a long-term professional contract with Milan when he turned 18, on Saturday, but the negotiations have not gone smoothly. Raiola is demanding €5 million per annum for his most prized possession yet the Rossoneri have offered only half that.
Nonetheless, an amicable accord is anticipated. Goal understands that the Chinese see Donnarumma as the symbol and 'The Great Wall' of their new, young and exciting Milan project and are, consequently, willing to make him the highest-paid player at the club by offering slightly more than the €3.5m that striker Carlos Bacca presently pockets.  
Whether that will be enough to appease Raiola in the long term is doubtful but the encouraging thing for Milan is that Donnarumma has repeatedly expressed his desire to become a legend at the club he has supported since childhood.
When asked about Buffon's remarkable longevity and where he sees himself in 20 years' time, Donnarumma replied: "I hope to still be on the field – and hopefully in a Milan shirt."
That remains to be seen, though, because while the Lord giveth; sometimes Mino Raiola can taketh away!