Wayne Rooney
'The future is bright' - Rooney denies international retirement after England debacle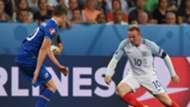 Wayne Rooney has dismissed suggestions that he is considering his international future after seeing England fall to one of the worst defeats in their history at the hands of Iceland. 
The Manchester United star put the Three Lions ahead on Monday with an early penalty, but the favourites succumbed to the determined Iceland side who ran out shock 2-1 winners to progress to the quarter-finals of Euro 2016. 
And speaking after the game, Rooney made no attempt to hide his disappointment as their campaign came to an end. 
"I feel disappointed, gutted, it's a hard one to take. We had a good chance of going through and after such a good start, conceding two sloppy goals, we're disappointed," he said in the mixed zone after the final whistle.
As he revealed how Roy Hodgson broke the news of his resignation, Rooney insisted that a similar step back was not on his mind. 
"He told us after the game, he went round all the players and as a group of players we appreciate what he's done, he gave a lot of these players their debut and you can't forget that.
"I think it's hard to see it now but the future is bright, going back to tonight it's a tough one to take, it'll take a bit of time for sure but we'll have to try and dust ourselves off as quick as we can and move on. 
"I said before the tournament I'm proud to play for England, I'm interested and excited to see who the next manager is and if selected I'm available to play."