Portugal
The Crying Game: Ronaldo robbed on the biggest night of his career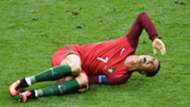 ---

COMMENT
---
Once again it all ended in tears. A young Cristiano Ronaldo was inconsolable as Portugal lost the Euro 2004 final to Greece in Lisbon and was distraught again at the Stade de France on Sunday evening after he was stretchered off the pitch in the first half.
Ronaldo was just 19 and playing his first international tournament back in 2004, but the Real Madrid forward captains his country these days and was relishing the chance of leading Portugal to glory at Euro 2016.
Cristiano had hit two goals against Hungary to help his team through the group stages and produced one of the tournament's memorable moments as he leapt magnificently to head home the opener in a 2-0 win over Wales in the semi-finals on Wednesday.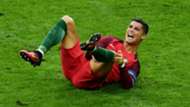 But his final was curtailed before it even got going. The 31-year-old took a big blow to his knee from Dmitri Payet after just nine minutes and was on the turf for treatment as the French fans booed.
Encouraged by his team-mates, he twice tried to continue, but after going down for a third time, he ultimately left the pitch on a stretcher and in tears, replaced by Ricardo Quaresma after just 25 minutes.
Earlier, he had tried to run it off but was limping badly and clearly unable to turn. And after jogging back to defend a corner, he was down again and that was that - his night over amid much sadness as the Portuguese supporters chanted his name.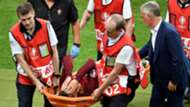 Before the match, Portugal legend Paulo Futre had said: "Ronaldo isn't right - you can see that. He had a small muscle tear not long ago, but he's there - and he's sacrificing himself for the team." 
Not any more, however - and it remains to be seen whether he will be back to lift the trophy later on as the two teams went in on level terms at the break.
Cristiano is Portugal's all-time leading goalscorer with 61 strikes and has won more caps for the nation than anybody else - but he has yet to win a title for his country.
On Sunday, he was denied the chance to be his nation's hero in the cruellest of circumstances.
Goal journalists are powered by the Samsung Galaxy S7 and Gear 360