Malaysia
TCH looks to test out new combinations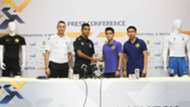 When Malaysia last took to the field on April 1 against Bhutan and came away with a 7-0 hammering of the visiting minnows, Tan finally got the Malayan Tigers to end a long winless run and restored some confidence back into the team.
The Thursday's game against Fiji is another opportunity for Tan and his boys to add onto the momentum and ensure that spirit remains high heading into the vital year end AFF Suzuki Cup competition. However, the timing of the international friendly gives Tan other matters to concentrate on.
This is not the fixed FIFA international calendar date that the Malaysia-Fiji game will be played on but rather one that Football Association of Malaysia (FAM) prepared to give Tan more time with the squad. 
With domestic schedule not changed to accommodate this friendly, Tan had to make do with changes to his squad compared to the one that finished against Bhutan. As such, six changes are expected to the team when they line up for the kick-off against Fiji
"The game against Fiji is not about equaling the Bhutan score but rather is about making sure that we can see further improvement from the team from that game to tomorrow's game. We need to test out some combinations and see whether there's an increased understanding between the players.
"From the videos we saw of their game against Philippines, I'm sure they will be able to give us a good fight," said Tan in the pre-match press conference on Wednesday.
Zaquan Adha is in the squad but is still nursing a hand injury and is unlikely to lead the team out. In his stead, Syafiq Ahmad is expected to take up the lone front man role with Syazwan Zainon and Safawi Rasid on either side of him.
Nazmi Faiz was the inspiration in the last round of matches and the midfielder will be the one that Tan will be looking to get the most out of. There might even be a case for Irfan Zakaria to be pushed into midfield now that Adam Nor Azlin is back with the squad again.
In goal, Khairul Fahmi looks likely to get the nod ahead of Hafizul Hakim and Ifwat Akmal with the defence in front of him likely to consist of less Perak players than in the previous match. Shahrul Saad could retain his place in the starting XI but Nazirul Naim could lose his place to Syazwan Andik.