Simba
Tanzania Prisons slam referee over Simba penalty decision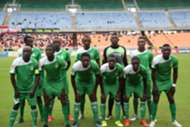 Tanzania Prison Head Coach, Abdallah Mohamed has described the decision to award John Bocco a penalty in his side 2-0 defeat against Simba on Monday as "embarrassing".
 
Prison defender Elfadhil appeared to have tackled Bocco from behind but replays showed that he managed to touch the ball, but referee Shamori Rawi pointed to the spot ten minutes before the final whistle.
Ugandan forward Emmanuel Okwi converted to add his goal tally to 19 and make life comfortable for the Wekundu wa Msimbazi.
"We showed great mental strength and got an embarrassing decision on the penalty, but we knew that could happen as well before the game so we have to deal with that," said Mohamed. 
Mohamed added that, they had a great chance to score an equalizer but the penalty killed all hopes and that is why lost the match.
The defeat leaves Prison in the fourth place in the Ligi Kuu table with 38 points while Simba have extended their lead to 11 points ahead of second place Yanga.