Super League
Cheng Hoe praises squad, Mora congratulates Kedah for win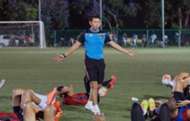 ---
BY         NIK AFIQ        Follow on Twitter
---
Kedah head coach, Tan Cheng Hoe praised his team for winning their first trophy of the season, and for defeating Johor Darul Ta'zim (JDT) in the Sultan Haji Ahmad Shah Cup at Larkin.
Cheng Hoe believed his players were determined throughout the 90 minutes and got the reward in the end.
"Overall, our players played really well because we know that to come here and beat JDT is not an easy thing to do."
"I have to congratulate the players because they played really well and managed to collect at least one point."
Cheng Hoe also believed it was important for Kedah to get a win over JDT in the first game of the season, to push them forward for the upcoming challenges throughout the year.
"Of course, playing the first game of the season wouldn't be easy for any team, as we are still trying to find the right tempo to play."
"But in the second half, we played really well and almost scored the winning goal but I think this is a good start for our team," added Cheng Hoe.
Meanwhile for JDT head coach, Benjamin Mora, he believes his players already gave their best to find the winner.
According to him, Kunanlan's sending off did have an impact to the game, and insisted that playing more than 45 minutes with 10 men was never easy.
"The condition of the game saw Kunanlan receive the two yellow cards but we fought hard and we tried to fix the situation in the second half, but we were up against a good Kedah side."
"But playing 45, 47 minutes with 10 men was not easy. My team did the best they could. We managed to hold on to the game."
"But this is what happened when it comes to penalty. It was difficult for both teams and Kedah took their chance to win."
Safiq Rahim opened the scoring from the spot before Baddrol Bakthiar equalised for Kedah in the second half.
JDT's new signing Brian Pereira failed to convert his penalty in the shootout, which gives Kedah the win, and more importantly a huge moral boost ahead of the new season.