World Cup
Take Nigeria to World Cup glory with FIFA 18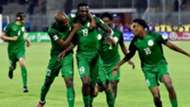 EA Sports has finally announced its plans for the release of a downloadable FIFA 18 World Cup mode that will be free to access for the owners of this season's title on PlayStation 4 and Xbox One.
This summer's World Cup in Russia promises to be one of the biggest and best tournaments yet with some very tasty looking games - which includes Nigeria's Group D matches against Croatia and Argentina - scheduled for June and July.
To get a feel of how the Super Eagles defence would try to curb the advances of a Lionel Messi-inspired La Albiceleste at the tournament, EA Sports revealed on Monday that it would be releasing a new expansion for FIFA 18 rather than a standalone FIFA World Cup 2018 game.
Previously, EA Sports has released separate games for the summer competitions, including the qualifiers - beginning with World Cup 98, which followed on from the groundbreaking FIFA: Road to World Cup 98.
---
When is the 2018 FIFA World Cup Russia download released?
---
The 2018 FIFA World Cup Russia download expansion will be released on Wednesday May 29 and lets players pick any of the 32 qualified nations to attempt to win the tournament using players who will be involved in Russia this summer.
"The 2018 FIFA World Cup update will deliver a complete and official tournament experience through official including authentic teams, stadiums, kits, badges, official match ball and the official winner's trophy," a statement released on Monday said.
In September, Spanish commentator Manolo Lama had confirmed that he was set to record extra commentary for the expansion, telling Radio COPE that "I have to record it for FIFA World Cup in December, I think it will be out in February or March".
EA Sports Spain's head of marketing Daniel Montes was also present for the interview and looked frustrated when Lama accidentally announced the news of the downloadable expansion, which many suspected would be released ahead of June.
---
What features will the 2018 FIFA World Cup Russia download have?
---
FIFA 18 game owners will be able play Online Friendlies and Online Tournament modes, getting hyped for the World Cup to officially kick off on June 14 or playing out big matches with friends.
Gamers can also use Custom Tournament mode to select any international side to compete in their own World Cup, including teams such as Italy, Chile and the United States national team.
The immensely popular FIFA Ultimate Team promises to have a "revised chemistry system", FIFA World Cup Icons and dynamic player items related to the real-world Russia 2018 competition.
"FIFA World Cup Ultimate Team lets you build your dream international squad," EA Sports' statement read. "All 12 stadiums from Russia are included in the FIFA World Cup update.
"Enjoy the tournament's sights and sounds, thanks to authentic pitch environments, advertisements, dressings, national team banners, and high-resolution crowds."
Additionally, it's been confirmed by EA Sports that "for every Standard or Premium pack you purchase in FIFA World Cup Ultimate Team, you will receive equivalent pack value in FUT 18."
There will not be a transfer market within FUT to trade players between teams.
---
How can I download the World Cup 2018 game?
---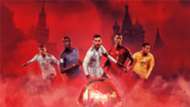 This year, the 2018 FIFA World Cup Russia download will be available on Playstation 4, Xbox One, Nintendo Switch and PC. There are no plans for an expansion release on the PlayStation 3 and Xbox 360 versions.
Downloading the 2018 FIFA World Cup Russia expansion will be very easy to acquire on Playstation 4, Xbox One, PC and Nintendo Switch. It will come as a patch for the existing game, which should automatically download when the game is started.
The download size of the expansion has not been revealed, but it will surely be less than the 47GB size of the full FIFA 18 game.