Simba
Swahili has helped my stay in Tanzania, says Agyei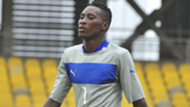 Simba SC goalkeeper Daniel Agyei says his success in Tanzania is as a result of the speed at which he learnt the Swahili language.
The 26-year-old has gone four games without conceding a goal, with Simba reaching the final of the competition after victories over Polisi Dar, African Lyon, Madini FC and Azam FC.
Agyei says it's now easy to communicate with his defenders.
"It is always difficult when you join a new club. When I joined Medeama, it was tough for me to adjust because I had to learn the names of the player especially the defenders," Agyei said.
"I had to master each player's movement and style on the pitch. It has been the same thing here in Tanzania.
"I have learned a little Swahili because it will be important in working and controlling my back line. I am willing to learn more and speak more.
"My target is to reach the top and win trophies with Simba. I am working on this with my team mates and this is what I hope for and, we are giving everything to succeed," he added.
Agyei was a member of the Black Satellites squad that won the 2009 Fifa World Youth Championship in Egypt.