AIFF Super Cup
Super Cup final: East Bengal cannot afford to be profligate against Bengaluru FC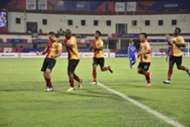 As East Bengal and Bengaluru prepare for the final showdown in the 2018 Super Cup, the I-League team's conversion rate in front of goal will be put to the test.
Both teams will desperately want to prevent a trophyless season and this is their final chance. While East Bengal, who finished fourth in I-League,  were beaten to the title by Minerva Punjab, Bengaluru hearts were broken by Chennaiyin FC in the Indian Super League (ISL) final. 
East Bengal last won the league in 2004. Their last Federation Cup (which is now the Super Cup) success came six years ago in 2012. On Friday (April 20), they have the chance to win their first major silverware in six years.
The Red and Golds have performed well in the Super Cup so far but an issue that has been troubling them is their failure to convert chances in front of goal. This profligacy has gone unpunished so far in the competition but against a team like Bengaluru, it would be an open invitation to a one-sided affair.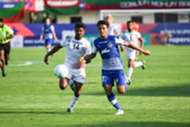 East Bengal's opponents in the Super Cup so far have been Mumbai City, Aizawl FC and FC Goa.  While the first two completely failed to punish their opponent's missed chances, FC Goa rang the alarm bells loud and clear. 
After Achille Emana's opener for Mumbai City in the Round-of-16, East Bengal came back from behind through Katsumi Yusa and Mahmoud Al-Amna to settle the tie. The Kolkata-based side scored only in injury time against Aizawl FC. And that too was through Laldanmawia Ralte's spot-kick.
The number of chances missed by the Red and Golds against Aizawl might have gone unpunished then but they cannot afford to repeat the same mistake against Bengaluru in the final. While Katsumi Yusa and Mahmoud Al-Amna have been impressive in midfield, Dudu Omagbemi has been wasteful in front of goal. 
The semi-final against Goa seemed like a weird game where it was a contest to determine who misses the most number of chances, as East Bengal threw away opportunities in the first-half before FC Goa did the same later in the game. If that happens on Friday, going by what we have seen so far in the Super Cup, the lethal duo of Miku and Sunil Chhetri will have a fun day at the office.