Mahmoud Al Amenah
Super Cup 2018: East Bengal's advantage in midfield against Bengaluru FC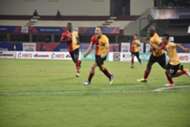 How often have we seen big games decided in midfield? With teams reluctant to press high up front and take risks with runs in behind, the knock-out games and finals have a tendency to get stuck in the middle-third of the pitch for long periods. 
Look no further than the 2017-18 Indian Super League (ISL) final between Bengaluru FC and Chennaiyin FC. Against a strong Bengaluru midfield, John Gregory's Chennaiyin FC had to play it smart. They chose their moments to surge forward to counter because it wasn't easy to dominate the middle-third right from the off against the likes of Dimas Delgado. 
The Marina Machans struck twice to take the lead before the end of the first half but more than the goals, it was an injury picked up by Delgado that concerned Albert Roca. Because the Spanish central midfielder has been a vital cog in the centre of the park this season.
Delgado is yet to recover from the injury and the Blues haven't been able to fill the midfield void in the Super Cup. Their struggles against Gokulam Kerala in the Round-Of-16 proved exactly that.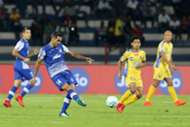 But it is a testament to their bench strength and spirit that they have still managed to overcome every hurdle and book their place in the final. Victor Perez has seamlessly slotted into whatever role that his coach wanted him to play. Erik Paartalu and Lenny Rodrigues have their done bit even though neither of them possesses Delgado's ability to dictate the tempo of the game. 
On Friday, they will be put to the test for the final time this season and it will be against a supremely talented midfield. Denying Mahmoud Al-Amna the exclusive rights to the middle-third of the field will be their first step towards Super Cup glory. 
Al-Amna's deadly combination with Katsumi Yusa has taken teams apart this season and they constitute an artistic force in midfield. Add Khalid Aucho's work rate and Cavin Lobo's industry and experience to it and East Bengal boasts an incredible midfield force.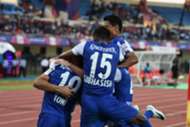 This is a team that managed to beat FC Goa at their own passing game and the Gaurs' player unavailability would be a poor excuse to play down Al-Amna's artistry in midfield. Cavin Lobo and Khalid Aucho have complemented well by keeping things simple in the middle. East Bengal have what Bengaluru don't and a big final would be a perfect stage to showcase the advantage. 
Given how the Blues have fought so far in the competition, an advantage in midfield is nothing they cannot deal with. Roca has never been one to instruct his players to adopt route-one football even when under pressure but Bengaluru wouldn't want a repeat of the ISL final in Bhubaneswar.