Germany
Stop the penalty conspiracy claims - Schweinsteiger stupidity cost Germany against France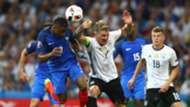 ---

COMMENT
---
There were serious doubts over Bastian Schweinsteiger's fitness before Germany's Euro 2016 semi-final showdown. Afterwards, there were only doubts over his intelligence - because the handball which cost his country a place in the tournament decider was as stupid as it was unnecessary.
Germany boss Joachim Low had decided beforehand that if Schweinsteiger proved his fitness in training, his skipper would definitely start in Marseille, stating: "He's very important for us in a game like this – mainly because of his experience."
Yet on the same night that Schweinsteiger took outright possession of the record for most appearances at World Cups and European Championships combined (38), the Germany captain was guilty of the kind of naiveté that a schoolboy footballer would have been embarrassed by.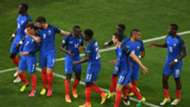 Quite why Schweinsteiger chose to challenge for a header with an outstretched arm is anyone's guess - perhaps it's something Germany work on in training, given Jerome Boateng pulled it off beautifully in the previous round against Italy - but the referee's decision to point to the spot was indisputable... At least, for anyone with an understanding of the rules of the game.
Alan Shearer - a man who has carved out a television career for himself despite disproving the old adage that 'Only those who played the game at the highest level can fully understand the game' - felt the penalty decision was harsh, arguing that Schweinsteiger had merely been trying to protect his face... presumably in the same way that the former England forward used to protect his own face, while simultaneously showing scant regards for those of his opponents, by jumping for every ball with his elbows outstretched for "leverage".
Annoyingly, the penalty decision prompted accusations of France benefitting from preferential treatment. While the draw and tournament structure were undoubtedly set up in their favour, this is nothing new. Host nations have been doing this for years. England changed the venue of their World Cup semi-final with Portugal from Goodison Park to Wembley on the eve of the game so that the Seleccao would have to endure a draining bus journey from Liverpool to London 24 hours before kick-off.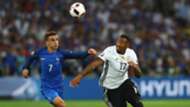 However, to suggest that the penalty decision was part of some underhanded plan to ensure France's progress to the final was farcical. The debate it provoked wasn't welcomed by anyone other than Schweinsteiger, as the uncomfortable truth was that his terrible error of judgement gifted France the lead at the end of a half that Germany had eventually come to dominate.
Indeed, after a somewhat shaky start, Emre Can began to impose himself on the game, setting up a fine chance for Thomas Muller. The shame for Schweinsteiger was that he had also played a key role in Germany taking control of the middle of the park, using the ball intelligently from his position just in front of the back four, as well as testing Hugo Lloris with a fine strike from outside of the area.
The handball - which was punished in emphatic fashion by Antoine Griezmann - changed everything, though, the "key" moment in the game, as Olivier Giroud acknowledged. It invigorated France, gave them something to hold onto, a lead to defend, while forcing Germany to take more risks. They had to chase the game and, almost inevitably, fatigue became a factor. Tired legs always leads to tired minds. Mistakes become inevitable, so it came as no surprise when a poor touch by the otherwise impressive Josh Kimmich allowed Paul Pogba to produce the cross that led to Griezmann's second goal of the game after a rare error from Manuel Neuer.
Again, though, they only had themselves to blame for tiring. This was their second handball of the tournament (we're not counting Joachim Low's effort against Poland!), after Boateng's baffling basketball block against Italy had allowed Leonardo Bonucci to force extra-time in their quarter-final clash with Germany in Bordeaux. Here, though, Schweinsteiger's stupidity proved significantly more costly.
---

WAS IT A PENALTY?
---