South Africa
South Africa drops seven places in latest Fifa rankings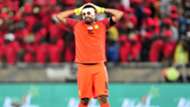 South African senior national team, Bafana Bafana, has dropped a massive seven places in the latest Fifa rankings which were released on Thursday, 23rd of November 2017. 
Bafana now find themselves in 81st place; their lowest since Stuart Baxter replaced Shakes Mashaba as head coach six months ago. 
Baxter's men rose from 65th place to 64th in July soon after their win over Nigeria in the Africa Cup of Nations (Afcon) qualifier in June. 
They declined from 66th spot in August to 80th in September following their losses to Cape Verde Islands, but were back inside the top 74 teams in the world in October. 
However, their back-to-back defeats to Senegal earlier this month (November) have seen them fall outside the top 80 teams in the world, and this would certainly not please the hierarchy at the South African Football Association (Safa) as it reflects badly on the work done by Baxter. 
Bafana Bafana failed to qualify for the 2018 Fifa World Cup finals, with Senegal, who are now ranked first on the continent, securing their ticket to Russia after finishing top of Group D log. 
In Africa, Bafana dropped two places to 18th, and they will have to work twice as hard to achieve their objective of breaking into the top 10 teams on the continent in future.