Premier League
Sol Campbell: The Invincibles hero loved at Arsenal, loathed by Spurs fans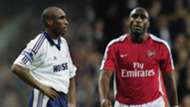 One of the most schismatic players in English football in recent memory when he played, Sol Campbell continues to divide opinion now that he has retired.
Loved by Arsenal fans but loathed by Tottenham supporters, Campbell was a mainstay for England for the guts of a decade and undoubtedly one of the finest defenders of his generation.
Since retiring he has made no secret of his desire to remain in the game and appears to be close to landing a first managerial role.
While he waits to discover his fate, Goal takes a look back at the defender's career, the trophies he won and some of his best achievements.
---
Sol Campbell's Spurs years
---
Campbell's career kicked off in earnest in the early 1990s at Tottenham and he spent a total of nine seasons at the club as a senior player.
He made a goal-scoring debut for Spurs in 1992 at the age of 18, hitting the back of the net in a 2-1 defeat to Chelsea after coming on as a substitute for Nick Barmby. However, he did not become a regular in the team for a few seasons.
A versatile defender capable of playing anywhere across the back line, Campbell eventually cemented his place in the heart of the defence in 1995 and his displays subsquently led to his appointment as captain of the team.
In 1999 he led Spurs to League Cup glory as they defeated Liverpool and Manchester United on their way to Wembley, where they overcame Martin O'Neill's Leicester City to lift the trophy.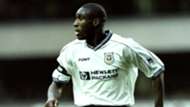 That season turned out to be Campbell's best at the club as he scored a total of eight goals, including six in the Premier League, but Spurs could only manage an 11th-place finish in the league. Nevertheless, Campbell was named in the PFA Team of the Year.
Despite remaining at the club for another two seasons, the centre-back would not taste further success at White Hart Lane and, in 2001, he committed what is considered to be a cardinal sin by many Spurs fans - he joined Arsenal. And to make matters worse, he left for their bitter rivals on a free transfer. 
---
Crossing the divide & becoming an Arsenal 'Invincible'
---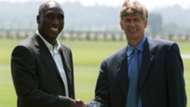 Campbell's decision to join Arsenal for nothing has ensured that he will forever be a villain in the eyes of Spurs fans and a hero for Gunners supporters. At the time it seemed, to Tottenham fans at least, that it was treachery of biblical proportions and he was dubbed 'Judas' thereafter.
Despite the vitriol aimed at him, Campbell was unapologetic about the move and defended it on the grounds of ambition. For, while he was widely considered to be one of the best defenders in England, his trophy cabinet housed just one trophy.
Indeed, the move immediately paid off as Campbell helped the Gunners to a Premier League and FA Cup double in his first season at the club. He went on to win a further two FA Cups with Arsenal (in 2003 and 2005), but the crowning achievement during his time at the club came in the 2003-04 season.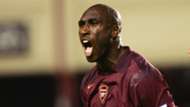 That year Arsene Wenger's side won the league title and made history in the process by becoming the first team to proceed through a Premier League season unbeaten. Campbell and his defensive partner Kolo Toure, as well as goalkeeper Jens Lehmann, played a key role in that as the team conceded just 26 goals.
They became known as The Invincibles following their unbeaten campaign and, for the third time in his career, Campbell was named in the PFA Team of the Year - one of six Arsenal players to be included in the peer-chosen panel.
He remained with the Gunners for a total of five seasons, leaving in 2006 to join Portsmouth. He won two league titles and three FA Cups during his time with Wenger's side and scored a goal in their Champions League final defeat to Barcelona in 2006.
Campbell briefly rekindled his Arsenal affair in January 2010 at the age of 35, but departed at the end of the season to join Newcastle United.
---
Portsmouth, Notts County and Newcastle
---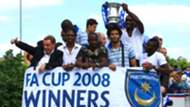 Following his departure from Arsenal at the end of the 2005-06 season, Campbell's services were in high demand and he was reportedly a target for Juventus and Turkish giants Fenerbahce.
However, he opted to remain in the Premier League and signed for Harry Redknapp's dynamic Portsmouth team, where he was reunited with fellow ex-Arsenal players Lauren and Nwankwo Kanu. Campbell was a regular for Pompey in the three seasons he spent at Fratton Park and was instrumental as they won the FA Cup in 2008.
He left Portsmouth in 2009 and his next move, somewhat bizarrely, saw him drop down three divisions to sign for Notts County. However, his time in Nottingham was brief and he left the club shortly after making his only appearance, believing that he had been "a mug" for believing in the venture.
The sudden exit from Notts County saw Campbell without a club but he found a safe port at Arsenal, who allowed the defender to train with them in order to maintain his fitness. He would eventually sign a short-term deal with the Gunners in January 2010, playing 11 Premier League games and a handful of Champions League matches.
That summer Campbell joined Newcastle and St James' Park became his final destination as a footballer as he officially retired in 2012, aged 37.
---
England career
---
The physically imposing Campbell is widely considered to be one of England's best defenders of all time and he enjoyed a long international career with the Three Lions.
He had formed a crucial part of England's UEFA Under-19 Championship-winning team in 1993, but had to wait three more years for his senior debut, which came against Hungary in 1996.
Despite his lack of senior international experience, Campbell was included in Terry Venables' squad for that year's European Championship, which was held in England.
In all, Campbell was involved in six major tournaments with England; three European Championships (1996, 2000 and 2004) and three World Cups (1998, 2002 and 2006).
During that time, he played alongside the likes of Gareth Southgate, Tony Adams and Rio Ferdinand. However, he did not taste any success on the international stage.
Campbell's last outing for England came in 2007 and he finished his career with 73 caps and one goal.
---
Coaching career
---
Since hanging up his boots, Campbell has taken steps to remain in football as a coach and has earned a UEFA Pro Licence.
However, the only experience to speak of on his coaching CV is a short stint as Dennis Lawrence's assistant manager with the Trinidad & Tobago national team in 2017.
As of March 2018, he is still listed as Lawrence's assistant on the official Trinidad & Tobago website, but that could change.
Putting the final pieces together for our World Cup qualifier against the USA in Denver. Can't wait international football! pic.twitter.com/5ez8BMhsXM

— Sol Campbell (@SolManOfficial) June 7, 2017
Like many high-profile footballers who have moved into coaching after retiring, Campbell's name has been linked with a number of manager jobs over the years, but he has yet to put his talents to work.
In February 2018, in an interview in which he bemoaned his lack of opportunities, the former Arsenal man caused a bit of a stir when he declared that his is "one of the greatest minds in football". 
The former centre-back added that his ability to coach and manage a football team is being "wasted because of a lack of experience".
However, he could be about to get his big break, with the Daily Express reporting that he is in talks with League Two club Grimsby Town for their vacant manager's job.
---
Political views, social media & other pursuits
---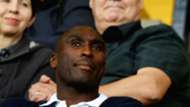 As well as attempting to delve into the world of coaching since his retirement from playing, Campbell has also dipped his toe into politics and he has not been shy about airing his views.
He gained a degree of notoriety in 2014 when he delivered a series of posts on Twitter criticising the Labour Party for a proposed tax on properties worth over £2 million. In the tweets, he declared the Labour Party to be "the grim reaper of business entrepeneurs or anyone that has done well!"
#MansionTax? Why should we except this? @UKLabour are the grim reaper of business entrepreneurs or anyone that has done well!

— Sol Campbell (@SolManOfficial) September 30, 2014
Around that time Campbell began to lend his support to the Conservative Party and after becoming more closely involved with the party, he even expressed his intention to run for their nomination for Mayor of London in 2016. However, he was not chosen.
During the debates leading up to the infamous Brexit referendum in the UK, Campbell was in favour of British withdrawal from the European Union and suggested that it would reap positive rewards for British football.
Like many current and ex footballers, Campbell has a Twitter account (@SolManOfficial) and he uses it to comment on current affairs, including political developments and social issues. He has regularly spoken about racism in sport and wider society.
Politics is not Campbell's only interest, naturally enough, and he has also worked as a pundit on a variety of channels.
---
What is Sol Campbell's net worth?
---
Campbell was one of the highest earners at both Tottenham and Arsenal, where he spent the majority of his career.
He has invested some of those earnings into property, which may explain his disagreement with Labour's 'Mansion Tax' in 2014.
It is difficult to be sure, but the website Muzul.com estimates Campbell's net worth at around $55m, which translates roughly to £40m.