MTN8
Siphelele Ntshangase: Kaizer Chiefs will not defend against SuperSport United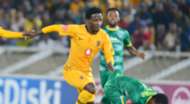 Kaizer Chiefs midfielder Siphelele Ntshangase says he is not happy with his contribution when it comes to providing assists for the strikers.
The former Baroka FC attacker has chipped in with two assists in seven matches in all competitions so far, but admits there's a room for improvement.
"Two assists in five games is not normal. Maybe if I had four assists in five games I would be happy, but it is going to improve," Ntshangase told the media on Thursday.
"I am enjoying the new role, but adjusting was not easy. When the coach told me to play there it was a little difficult at first. I am now enjoying it because I can help in defending and attacking," he added.
"I used to play the role in my amateur days. There is room for improvement. I need to keep the right positions in terms of the shape. We are working on it at training," he continued.
With Amakhosi set to host SuperSport United in their MTN8 Cup semi-final second leg clash on Saturday night at the FNB Stadium, the creative midfielder wants to do more.
The two Premier Soccer League (PSL) giants played to a 2-2 draw on Sunday at Lucas Moripe Stadium meaning the clash is still anyones for the taking.
In addition, Ntshangase declared war against the reigning MTN8 champions at the Calabash, saying that they will not defend but take the game to Amatsantsantsa A Pitori.
"We are not going to defend. We are going to go all out," he concluded.
A look at their progress so far, Giovanni Solinas' troops dispatched Free State Stars in the previous stage and will want to erase their three-year trophy drought and march on to lift the trophy coupled with the whopping R8 million in prize money.
Meanwhile, Ntshangase's teammate Leonardo Castro, has warned Kaitano Tembo's troops that he is eager to dethrone the Tshwane side.
"This is a big game for us. We need to fight for this cup. We also need to be focused on our defensive job," added Castro.
"I know I can score more. Sometimes I just need to be calm in the box, but I know I can score more," he concluded.
The match is set to get underway at 8:15 and the winner will wait for the result of the contest between Mamelodi Sundowns and Cape Town City as they will meet on Sunday afternoon.