Singapore
Singapore's confrontation with Cambodia proves there will be no easy games at the AFF Championship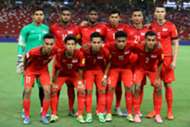 Singapore secured their first away win since 2016 after defeating Cambodia 2-1 last night. In the past the Lions used to blow away such sides with ease, but the present represents a much different narrative altogether.
The first half saw Singapore being dominated by their opponents as the Angkor Warriors ran riot all over the Singapore backline.  An own goal conceded by Ho Wai Loon in the 17th minute could have spelled disaster for the Lions as the partisan crowd in the Phnom Penh Olympic Stadium upped their volume.
Singapore for their part however retained composure and managed to hold on till half-time. Significantly, the second half proved to be a different story as Coach Fandi Ahmad added Adam Swandi and Jacob Mahler in place of Yasir Hanapi.
It would prove to be a masterstroke as Mahler would grab the equaliser before Ikhsan Fandi added another in the 74th minute. Singapore is yet to be beaten under Fandi with this victory over Cambodia extending that unbeaten streak.
However when observing this game, it is important to realise how much Cambodia have grown in recent years and were able to match Singapore stride for stride. Indeed the Angkor Warriors gave the Lions a tough match where victory was in the balance.
Singapore will have to be prepared mentally that every game is going to be as tough as this at the AFF Championships. Fandi needs to prepare his players mentally especially against sides like Indonesia and Thailand where a hostile atmosphere combined with, a technically gifted team could hurt the lions.
There will be no easy games at the AFF Suzuki Cup and to underestimate minnows such as Timor Leste  could come back to haunt the side, especially when Singapore is placed in a tough group. For Fandi, all of this just adds to the monumental task at his hands.