Sime Darby
Sime Darby withdraw from M-League despite promotion; a worrying sign for professional football in Malaysia?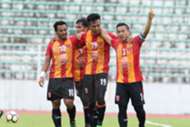 ---
BY        ZULHILMI ZAINAL       Follow on Twitter
---
The state of professional club football in Malaysia has taken a sudden, worrying turn, when 2017 FAM Cup champions Sime Darby FC surprisingly announced their withdrawal from the M-League.
Just one day after Super League side T-Team FC announced their absorption into the newly-established Terengganu FC set-up as its feeder club; Terengganu FC II, Sime Darby on Wednesday issued a statement that they will no longer take part in the professional competitions.
"SDFC (Sime Darby) humbly thank all parties that have been involved directly and indirectly since the the club's establishment in 2010. We would also like to thank our fans who have tirelessly supported SDFC over the years.
"To the players and the SDFC coaching staff, we thank you for all your contributions and sacrifices for the team this season. We also wish the best of luck to everyone who is still active in football," wrote the club in its statement.
However, it added that it will continue participating in the Kuala Lumpur FA state league, and will focus on developing under-12 players at its homeground the SDFC Training Ground, Bukit Jelutong.
The little-supported but profesionally run Giant Killers, owned by national conglomerate Sime Darby Group had been formed in 2010. They rose up the pyramid, becoming the first ever club side to play in the FA Cup final in 2012, before reaching the top tier for the first time for the 2014 season.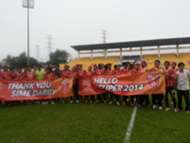 Sime Darby celebrating their promotion to the Super League back in 2013. Photo by Zulhilmi Zainal
Their fortunes however took a turn for the worse the following season, and they plummeted back into the third tier for the 2017 season. But they rediscovered their groove under head coach Ahmad Yusoff, and won the FAM Cup for the second time in their history, and were set to return to the second tier for the 2018 season.
But now it seems that the promotion had been a false hope. While their staff and players maybe scratching their heads wondering about their careers, fans and observers of Malaysian football must be feeling worried about the future of professional football in the country.
Apart from Sime Darby and T-Team's demise, Kuantan FA and Felcra FC's future too hang in the balance, while Super League's Felda United, another club side that are propped up financially by a conglomerate, have not secured the necessary license to take part in the 2018 M-League.