Selangor
Selangor fans urged to buy original new kits to help the club financially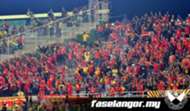 ---
BY        ZULHILMI ZAINAL       Follow on Twitter
---
With the Red Giants scheduled to hold their 2018 season and jersey launching event on Sunday, Selangor manager Datuk Abdul Rauf Ahmad has urged the team's fans to support the team financially, by buying original.
Selangor are set to wear Lotto kits again for the 2018 season, as supplied by local sporting store Al-Ikhsan. The event will be held at the Plaza Alam Sentral, Shah Alam at 2.00 pm, and the new kits are expected to be available for purchase on that day.
"We urge Selangor fans to support us at the stadium, and also to buy our new original Lotto jerseys. It will help the club financially, especially when we no longer receive any funding from the state government. 
"Buy original, buy quality from Lotto and Selangor, and keep supporting the team," said Rauf to Goal on Friday.
He also added that there are plans for the club to issue original Selangor merchandise this season, but provided no details.
Images of the new Selangor jerseys have not been leaked online so far, but they can perhaps be gleaned from another Super League side. Kelantan, who opted for a similar Lotto deal with Al-Ikhsan, have launched their new kits on Friday in Kota Bharu.
Kelantan have revealed their brand new kits by Lotto. aL-ikhsaN Sports appointed us to create the creative and main reveal asset for their kit launch activation of their new partnership with Kelantan and Selangor. #ForeverRed #LetsPlay pic.twitter.com/ADn6fvs47z

— Play4Sports (@Play4SportsMy) January 26, 2018