Liverpool
'Salah is a goalscorer and must be selfish' - Liverpool star avoids criticism of 'dodgy decisions'
Mohamed Salah made some "dodgy decisions" against Tottenham, says Robbie Fowler, but the Liverpool forward has avoided criticism because he is "a goalscorer" and needs a selfish streak.
The Egyptian international found the target on 44 occasions during a stunning debut campaign at Anfield in 2017-18.
He has managed another two efforts this term, but drew a blank in his most recent outing against Spurs.
That was not through a lack of trying, with Salah clearly desperate to get on the scoresheet during a fixture at Wembley Stadium dominated by Jurgen Klopp's side.
He did take those efforts to the extreme at times, with his focus narrowed on the target when team-mates were better placed, but Fowler considers that to be a good thing.
The Liverpool legend told The Mirror: "I'm not going to start condemning the forwards after such a good win. Yes, Salah was probably the worst culprit, and he not only missed a few chances, but also made a couple of dodgy decisions in possession.
"But he's a goalscorer. He is used to scoring now and he wants to find the net. I know what that's like, and I can't criticise him for that. You can't be moaning at him when the Liverpool forward line took Spurs apart so easily."
Liverpool should have been well clear by the time Erik Lamela grabbed a late reply for Spurs, with Fowler echoing those who consider Klopp's side to be serious title contenders.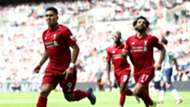 He added: "It was a performance from Liverpool that had a bit of everything, with very few weaknesses. I noticed Graeme Souness said afterwards he thought it was my old club's best team since Kenny Dalglish last won the league.
"I'm not going to argue with Souey, because he's Souey...but you definitely can't say that unless they win the league."
Fowler has also supported the view of former Manchester United star Gary Neville, who has suggested that any club – including Liverpool – will find it difficult to challenge for Champions League and Premier League crowns in 2018-19.
He said: "[Pep] Guardiola has great quality at his disposal, he has the knowledge of how to get to Champions' League finals and he will believe this is the season he can bring the trophy to the club.
"I wouldn't argue with that, of course, but it's no formality. It's so tough to win the Premier League and Champions' League – I think Manchester United were the last to do it in 2008, so a decade ago.
"I don't want to echo Gary Neville – no chance of that – but it is actually tough to do both, because teams in different leagues get a much easier ride during the season. But if any club can do it, then it's this City squad."