Liverpool
Salah and Liverpool have to be more streetwise - Klopp's side 'too honest', says Aldridge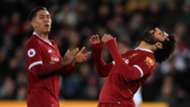 Liverpool need to become "more streetwise", says John Aldridge, with Mohamed Salah and Jurgen Klopp's ball-playing side "too honest for their own good".
The Reds left Old Trafford on Saturday feeling deflated after a 2-1 defeat to Manchester United, with dominance of possession – particularly in the second half – failing to deliver tangible reward.
Klopp was quick to bemoan key decisions going against his side afterwards, with there a feeling inside the Liverpool camp that they were denied at least one penalty.
Aldridge believes they would have got those calls had the likes of Salah given the match officials a decision to make, with the Reds needing to ally their pretty passing with a ruthless streak.
The former Reds striker told the Irish Independent: "Jurgen Klopp claimed the referee cost Liverpool a point at Old Trafford, but I wouldn't agree with him on this occasion.
"I would argue that if Klopp's Liverpool team were a little more streetwise, they would have got at least a draw out of the game, but they are too honest for their own good at times.
"We saw Tottenham players getting penalties at Anfield a few weeks back after falling over in the box, but Salah decided to stay on his feet and the referee then decided to give nothing.
"What would have happened if Mohamed Salah had fallen over like most Premier League players would have done? I reckon he would have got a penalty, but that is not the way Klopp has his players thinking.
"They try to win matches in an honest way, by out-passing and outscoring opponents and what we saw was a team winning via an alternative route.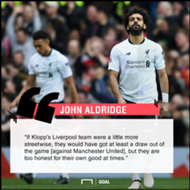 "The Salah penalty decision was probably borderline, but I have no doubt that Liverpool should have been given a penalty when Antonio Valencia handled in the box and denied Sadio Mane a chance to score.
"The United player had time to get his arm out of the way and that was a clear spot kick for me, but Liverpool should not blame the referee for what was a horrible defeat."
A painful reversal against arch-rivals has left Liverpool fourth in the Premier League table, four points clear of fifth-placed Chelsea in the ongoing battle for Champions League qualification.