José Mourinho
Saha tells Mourinho he's made mistakes but backs him to turn Man Utd around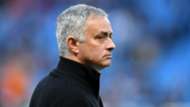 Former Manchester United forward Louis Saha believes Jose Mourinho has made mistakes whilst in charge of the club but backed him to eventually turn things around.
The 55-year-old has endured a tough start to the season, with the Red Devils currently 12 points off top spot and seven off the Champions League places.
However, Saha believes Mourinho has the knowhow and experience to improve United's results in the remainder of the season.
"He is definitely someone who can do that," the Frenchman told Sky Sports .
"He has got the quality, the pedigree, there is nothing wrong with that. We make mistakes as humans and he has done it. He is a grown man and he will identify where he has to improve.
"He doesn't have as much margin to do it, but the club have identified they need to be stable to be consistent.
"It is all about results. If you win you get time, if you don't…"
Mourinho will hoping to see his side go on a run of positive results when his players return from the international break. 
United have, on paper, a more favourable set of fixtures in the coming weeks and play all of the current bottom five in the next seven Premier League games.
However, sandwiched in-between those matches are two huge clashes against Arsenal and Liverpool.
They also have two important games in the Champions League before Christmas, and know that victories against Young Boys and Valencia would secure their place in the last 16 of the tournament.
In five seasons at Old Trafford, Saha helped the Red Devils reach the knock-out stages of the Champions League on four occasions. He was also part of the team that won Europe's elite competition in 2008.
Saha registered 42 goals for United in 124 games, and won five major trophies with the club.
He also played in the Premier League for Newcastle United, Fulham, Everton, Tottenham Hotspur and Sunderland.