Arsenal
'It's crazy!' - Sagna claims Arsenal stars are giving more for Emery than they did under Wenger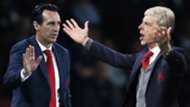 Arsene Wenger's departure from Arsenal was "a bit harsh", claims Bacary Sagna, but those at Emirates Stadium are considered to be working harder under Unai Emery.
After 22 years of stability in north London, the Gunners decided to wipe the slate clean and start afresh over the summer.
Wenger was moved out and Emery drafted in, with a new approach required after a tumble out of the Premier League's top four.
The new man at the helm has helped to restore a sense of optimism around Emirates Stadium , with Arsenal on a 16-game unbeaten run, and a former star believes players are giving more under the current regime than they did under the previous one.
Sagna, who spent seven years working under Wenger during his time with Gunners, told Sky Sports : "It is strange. From one year to another, it is totally crazy.
"They enjoyed the summer to clear their minds and come back stronger.
"It seems like they give even more on the pitch and it is working for them. I am so happy to see the club back to its best. Arsenal is in my heart, it is my club.
"I was a bit sad to see them struggling the way they did the past two years. I was sad to see Arsene Wenger leaving when he did.
"He gave his life for the club. It can't always be perfect and people were a bit harsh with him. Arsenal became Arsenal because of him. He was the man
"But now I am happy because the players are happy and they seem to be sticking to the project."
Arsenal opened the 2018-19 campaign with back-to-back defeats against Manchester City and Chelsea, leading to more questions of their ability to compete with the very best.
They have not come unstuck since then , though, and have made impressive progress through Premier League, Carabao Cup and Europa League competition.
A return to domestic action will be made on Sunday when they travel to Bournemouth, with it possible that Emery's side could move back into the top four if other results go their way.