PSL
Safa suspends match officials Muvhali and Jafta for poor officiating in a PSL match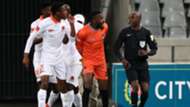 The South African Football Association (Safa) has suspended referee Cedrick Muvhali and assistant referee Patrick Jafta for poor officiating during the league match between Cape Town City and Polokwane City.
The Premier Soccer League (PSL) match which was played at the Cape Town Stadium in the Mother City, was won 1-0 by Cape Town City on 22 September 2017.
The encounter was blighted by some poor officiating in which the hosts were denied what looked like a clear goal.
A statement from Safa read: "As a result, both officials have been suspended from handling any game within the National Soccer League [NSL] from 1 October to 31 December 2017. The match fee which the two were supposed to have been paid is forfeited, and their monthly stipend for the same period of October to December has also been forfeited.
"A letter has been forwarded to the NSL informing them on this development.
"On resumption of their official duties, the two will officiate in National First Division [NFD] matches and a senior match commissioner will be assigned to all of their matches to monitor them for at least four weeks.
"Officiating in any PSL fixture will only be considered thereafter provided the two achieve satisfactory results in respect of those assignments afforded during the four-week period under review."
Safa senior referees manager Ian McLeod explained why a severe punishment was warranted.
"This type of performance must not reoccur at any level in the future," McLeod said.
Safa chair of the technical committee Natasha Tsichlas said: "We needed to act swiftly and decisively in order to send a strong message to all match officials that such below par performances are unacceptable and measures will be taken against match officials who perform poorly."