Recreativo do Libolo
Safa offers their support to the Angolan football fraternity
Yusuf Variava and Ignat Manjoo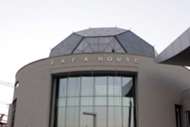 The football world is in mourning after 17 football loving fans lost their lives in Angola.
On Friday, a match between Santa Rita de Cassia and Recreativo de Libolo will forever be remembered as a sorrowful day for Angola and world football.
A stampede had broken out at the entrance of the January 4 stadium and claimed the lives of supporters. The horror scenes also saw many injured in what is the worst football tragedy in Angolan history.
The South African Football Association (Safa) are the latest football body to offer their sincere condolences and solidarity with their fellow Southern African compatriots.
Safa media officer Dominic Chimhavi spoke on behalf of the association iterating their support for those befallen.
"It is a sad day in the history of football and we would like to offer our support to the family of the victims and to the Angolan Football Association," Chimhavi told Goal.
"We hope that this will never happen again.
"The safety of the spectators should be of the utmost importance, one spectator lost is one spectator too many.
"We hope that other FA's can take a leaf out of this and beef up security," Chimhavi concluded.
Here's a selection of the Twitter reaction after the tragedy:
There was a minute of silence in the Atl Madrid vs Celta game in honour of the Angola stadium victims.

Was same done at CAF matches? BIG NO

— Sports Obama (@SaddickAdams) February 12, 2017
Image: Team, before kick-off, observes silence for victims of Angola tragedy where a stampede broke out at stadium killing 17 football fans. pic.twitter.com/E93Nyqsu1J

— Barcastuff (@barcastuff_real) February 11, 2017
Rip to those football fans in Angola♡

— Humza (@Humza_lfc) February 10, 2017
On behalf of Goal South Africa, our prayers are with the families & Angolan football supporters who tragically lost their lives pic.twitter.com/EkmTg5ASkJ

— Ignat Football (@IgnatFootball) February 13, 2017