A-League
Ryan Lowry's A-League ban upheld despite Director of Referees confirming mistake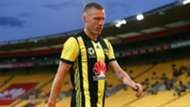 Wellington Phoenix coach Mark Rudan claims calls are going against his side and he can feel a little aggrieved after Ryan Lowry had a one-game ban upheld for an incorrect red card issued against Perth Glory.
The Nix defender was sent off just minutes after coming on after VAR intervention saw a foul upgraded to a red card. 
The decision angered fans and Rudan in particular, who described the VAR as a mockery, but Lowry will still spend a week on the sidelines despite an admission the wrong decision was made by the referee. 
Speaking to a-league.com.au, FFA Director of Referees Ben Wilson revealed only a yellow card should have been shown and explained why a suspension will still stand. 
"In the Referees Department's weekly post-round review, it was determined that the correct outcome should have been a yellow card for a reckless tackle," Wilson said.
"You will have seen that earlier this afternoon the Match Review Panel (MRP) did not overturn the red card issued to Lowry.
"The reason for this is that the MRP can only overturn a red card if all three MRP members determine that in the circumstances no card was warranted."
Interestingly, Wilson also admitted Taylor Regan should have been shown a straight red card and not just a second yellow card for his attempted eye gouge on Stefan Mauk on Friday. 
That incident also saw VAR used, but the incorrect decision was again seemingly reached.