Euro 2016
Fitter than ever - the re-invention of Wayne Rooney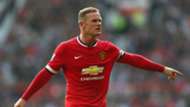 SPECIAL REPORT
By Greg Stobart

In the last few months, Wayne Rooney has been appointed as the new captain of Manchester United and England – and the striker has taken on the responsibility by leading by example for club and country this season.

As he prepares to win his 100th England cap against Slovenia on Saturday, Goal can reveal that Rooney is lighter and fitter than ever and has been setting the standard in intense training sessions with United at their Carrington base.

Louis Van Gaal and his backroom team keenly scrutinise telemetry data from training and the results show that Rooney is outperforming everyone in United's star-studded squad.

Rooney himself feels he is in the best condition since he joined the club as an 18-year-old in 2004 and now both United and England are ready to reap the rewards.

The 29-year-old was heavily criticised by Sir Alex Ferguson in his autobiography for his failure to maintain his physical condition while the Scot also claimed Rooney asked to leave United two seasons ago because he was unhappy with frequently being played out of position in a midfield role.

But Rooney is leading by example on the training ground, the first to arrive at Carrington and the last to leave on most days, setting the tone for the rest of the squad with his attitude, application and discipline. He is not the poor trainer that Van Gaal was warned about prior to his arrival.

The man who once ate sausages, chips and beans as his favourite meal has become a salad and chicken lover and the results have shown on the training pitch, with Van Gaal describing his skipper as undroppable.

The 29-year-old responded to his red card against West Ham in September with bitter disappointment with himself and responded by going into 'turbo charge' mode in training.

Rooney's natural physique will always be akin to a middleweight boxer rather than an athletic machine like Cristiano Ronaldo, but he is doing his best to defy Ferguson's suggestion that he will fade quickly in his 30s.




"With that kind of physique it was hard to imagine him playing into his 30s," Ferguson wrote. "If he missed a couple of weeks for United it could take him four or five games to get his sharpness back.

"He would receive no leniency from me. I would hammer him for any drop in condition. It was quite simple - he wouldn't play."

Rooney has also taken to a more withdrawn midfield role under Van Gaal, whether in a 5-3-2 or 4-1-4-1 system, accepting that he can no longer play as the out-and-out striker that scored 34 goals in all competitions in the 2009-10 season.

Put simply, Rooney no longer has the legs to lead the line at the highest level and is better suited in an attacking midfield role where he can knit together attacks and arrive late in the box where he maintains a considerable goal threat.

Hodgson as well as Van Gaal could benefit, especially with England lacking quality in midfield but boasting plenty of speed, sharpness and skill up front through Daniel Sturridge and Danny Welbeck.

Rooney will lead England out at Wembley with 43 international goals to his name and is almost certain to overtake Bobby Charlton's record of 49 strikes for the Three Lions.

The debate will rage for a long time over whether Rooney ever reached that world-class level or fulfilled the raw potential he thrilled us with as a fearless teenager.

But he has shown an adaptability and level of professionalism that many around him would have thought unthinkable a few years ago.

Now the slimline Rooney has an opportunity to reinvent himself and prove he has plenty of time left at the highest level.

//