Cristiano Ronaldo
'Ronaldo isn't worth €100m price tag' - Moggi would 'never have spent such a fee on a 33-year-old'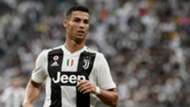 Cristiano Ronaldo's €100 million (£90m/$117m) move to Juventus has been questioned by the club's former managing director, with Luciano Moggi claiming he would "never have spent such a high fee on a 33-year-old".
The Portuguese superstar was taken to Turin over the summer after nine record-breaking years at Spanish giants Real Madrid.
His capture was considered to be quite a coup for the Bianconeri, even when taking his advancing years into account.
Moggi concedes that Ronaldo's commercial appeal makes him an obvious asset for Juve, but he is not convinced about the sporting logic of bringing in the five-time Ballond d'Or winner and parting with Gonzalo Higuain.
He told Corriere dello Sport: "In terms of marketing, it's a sensational deal.
"But I would never have spent such a high fee on a 33-year-old - and I would certainly not have announced it before selling Higuain, someone who scores 20 goals a season.
"First I would have sold Higuain for €50m (£45m) and only then would I have announced Ronaldo."
Moggi is adamant that he played no part in the transfer which took Ronaldo to Italy, with his efforts to land a modern day icon having ended after missing out on his services in 2003.
He added on a deal done 15 years later: "That's Fiat stuff.
"I actually signed Cristiano Ronaldo. He was 18 and he played for Sporting Lisbon.
"I saw him and the next morning I signed the contract for 5 billion lire (£2.3m) plus our [Marcelo] Salas, who would have received a 1b lire (£470,000) loyalty bonus.
"But then Salas preferred River Plate and Manchester United came in for Ronaldo.
"At the time, Juve were in a real crisis. We didn't have a penny."
Juventus are still waiting on Ronaldo to record his first competitive goal for the club, with his third Serie A outing of the season set to come away at Parma on Saturday.