Transfers
Ronaldo ice cream & Coppa CR7 - How Italy is going crazy for Cristiano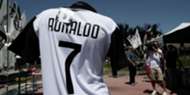 Cristiano Ronaldo is still yet to sign for Juventus, but his imminent arrival has already created a furore around Turin as fans await the star. 
Real Madrid and Juve announced on Tuesday an agreement worth an initial €100 million to sign the 33-year-old striker. 
Ronaldo will be presented as the latest addition to the Bianconeri squad on Monday, after eight trophy-laden seasons at the Bernabeu. 
And Ronaldo fever has already hit hard in Italy, with supporters and businesses scrambling to welcome him to his new home. 
Even before the transfer was confirmed, one enterprising Turin ice cream seller had already prepared their own tribute. 
'Ronaldo gelato' is now on sale in the city, courtesy of Leonardo La Porta of the Miretti store. 
"I can only sum it up as Portugal, the land of Ronaldo," La Porta explained to La Repubblica when asked what flavour Ronaldo ice cream would take. 
Cristiano Ronaldo gelato already formulated in Turin as excitement brews https://t.co/qAZ284nwX1 pic.twitter.com/te5DAp7Pcq

— Real Madrid News (@real1902news) 8 de julio de 2018
La Porta has combined a cream base with a dash of Ginjinha, a famous Portuguese liquor which gives a hint of cherry to the palate, and topped off with chocolate chips. 
In the nearby town of Vinovo, meanwhile, the Bottega del Goloso restaurant has incorporated a new dessert to the menu: the 'Coppa CR7' (CR7 Cup). 
È già Cristiano Ronaldo-mania a Torino: nasce la coppa gelato CR7 https://t.co/SShJ00TicC pic.twitter.com/5EsKDGVCsP

— Stazione meteo (@Barcellonameteo) 9 de julio de 2018
Curious diners now have the chance to tuck in to a delectable sundae topped with a chocolate CR7, a prospect that is surely impossible to turn down. 
It is not only those with a sweet tooth who have had reason to celebrate the transfer, either. 
Juventus' stocks were sent soaring with the news that Ronaldo was close to a deal, and in the last 10 days share prices have shot from €0.66 to €0.90, growth of over 30 per cent. 
And that will surely be only the beginning, as the club prepares for a run on club shirts and other merchandising that will approach mayhem now Ronaldo 7 is printed on the back.