Manchester City
Roberto Carlos: 'Fantastic' Gabriel Jesus will be a Man City star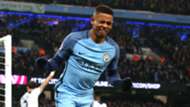 Brazil legend Roberto Carlos has backed compatriot Gabriel Jesus to become a star at Manchester City.
The 19-year-old made his Premier League debut on Saturday against Tottenham, coming off the bench for an impressive cameo, having signed for Pep Guardiola's side from Palmeiras.
Rooney's Man Utd career in doubt
City paid a reported £27 million for the attacker, who is a full Brazil international, having already scored four goals in six appearances since making his senior debut in September 2016.
Former World Cup winner Roberto Carlos believes that Jesus' City debut only showed glimpses of what he is capable of, and feels he will only improve once he properly settles in England.
"Gabriel will be very important for Manchester City but he needs time to adapt," the 43-year-old told Sky Sports.
"I would ask that people don't put too much pressure on him too soon."
Jesus had the ball in the net in the 2-2 draw, but his late strike was called back by Andre Marriner. However, Roberto Carlos was impressed with his brief showing.
Wenger: Xhaka not great at tackling
"He showed what he can do in the last 15 minutes of the game against Tottenham," the former Real Madrid defender continued. 
"He showed his fantastic speed and he scored the goal that was ruled out for offside.
"It made people notice him, but it can be difficult for a young boy coming to a new country. He has to adapt."