Arjen Robben
Robben should renew at Bayern Munich - Boulahrouz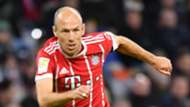 Former Netherlands international Khalid Boulahrouz believes Arjen Robben still has plenty to offer and hopes his compatriot will continue to play for Bayern Munich for a few more years. 
Robben has developed into a key figure at the Bavarians since joining from Real Madrid in 2009, but his time at the club could come to an end in the not too distant future as the 34-year-old has only four months left on his current deal.
It remains unclear for now whether Robben will ink a renewal, but Boulahrouz believes the experienced attacker is best off staying in the Bundesliga as long as his body allows it. 
"I don't think he should go back to the Netherlands yet," Boulahrouz told Goal. 
"He can go back eventually but it also depends on his family. He has been playing in top competitions for so many years. In England, he was at the top level. In Spain, he was at the top level. In Germany, he is at the top level.
"There comes a day when your body cannot continue, you are tired. Even if you want to continue, your body will talk to you and say 'okay I cannot handle it anymore.'
"If he can continue then I would advise him to continue with Bayern Munich. They are one of the best clubs in the world and he already has a big reputation in Germany. He has been there for so many years, so why not.
"I think it feels like home to him, so why change club when you are comfortable. He looks strong in a physical way so I cannot see why he cannot continue for another couple of years. He was one of the best I have played with, he is fantastic."
Robben's success at Bayern reached its peak when he won the Champions League and scored a last-minute winner in 2013. 
That came just a year after he missed a penalty in the 2012 Champions League final, which saw his former club Chelsea win their first ever honour in the competition.