Opinion
Record breaker Omagbemi raising hopes of African women in football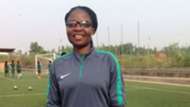 COMMENT:    SAMUEL AHMADU       
---
Despite the glaring neglect suffered by African women in football, Nigeria legend Florence Omagbemi is raising the bar and inspiring the new generation with her career achievements.
The Super Falcons coach was the mastermind behind Nigeria's African Women's Cup of Nations triumph in Cameroon in 2016 and became the second African and one of three women to be shortlisted for the "Best Fifa Women's Coach" 2017 award last Thursday. The first African was Omagbemi's compatriot Peter Dedevbo in 2016.
Omagbemi's coaching career developed following an illustrious playing career.
In her 13 years playing career, Omagbemi led the Nigerian side to claim the African title four consecutive times from 1998 to 2004. She made four appearances at the Fifa Women's World Cup, crowning it off with a quarter-final spot at USA 1999.
Having previously served as an assistant coach with the Falconets at the 2012 Fifa U20 Women's World Cup in Japan, Omagbemi accepted the task of leading the Super Falcons to the continental triumph in February 2016, filling the void left by Christopher Danjuma who led the team to a forgettable All African Games campaign in Brazzaville in 2015.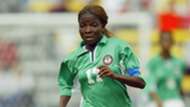 After surviving qualification hurdle seeing off Senegal, she guided her side to the crown after defeating the hosts, Cameroon in Yaoundé. At securing the nation's record eighth title, Omagbemi wrote her name in the history books becoming the first African woman to lift the trophy as both a player and coach.
Unfortunately, the success did not come on a platter of gold as she endured many frustrations including going over 10 months without pay before the championship.
This prompted the post-Awcon 2016 protest weeks later in Abuja as players took to the nation's National Assembly premises to demand their wages and were eventually paid in 48 hours.
Weeks after, Omagbemi was nominated for Caf Coach of the Year 2017 – an award which was eventually won by Mamelodi Sundown's Pitso Mosimane of South Africa.
On her nomination, Omagbemi told Goal, "Being put in this position with top coaches on the list, it is an honour and a privilege. I want to give God the glory for this achievement.
"A winner is always a winner. Even during my playing with the Super Falcons, I don't give up easily in any situation I found myself. I always tried to make the best out of it."
Reacting to Omagbemi's shortlist, former Banyana Banyana captain and coach Desiree Ellis described her as a great example for women footballers on the continent while canvassing for her to claim the top prize.
"Her achievement is amazing. She has always shown to be a true leader, playing against her. Very calm, humble, patient and a good example as a player and now as a coach," Ellis told Goal.
"She has also achieved so much as a player winning the continental championship on few occasions and attending several World Cups. She is a great example to upcoming women's coaches and players globally, especially in Africa.
Lets vote for Florence Omagbemi. @thenff @Superfalconfans https://t.co/1Qwc1WALo3

— Desiree Ellis (@descaptain) August 21, 2017
"They need to know how she managed as captain of her team to achieve so much in her career. She has proved if any woman is committed to the course, she can be successful at it.
"She is a leading example for women footballers and here to stay. It also means a good player can also become a good coach. She has all it takes to win the award and I urge everyone in Africa to vote for Florence."
Even though she has long been relieved of her post largely due to the protest held last December – Omagbemi's story has become inextricably interwoven with that of Nigerian women's football.
Nigerian journalist, Janine Anthony, who saw the Super Falcons retain her crown in Yaoundé, senses Omagbemi's dismissal was a mockery of country's reputation.
''Not only was Florence Omagbemi a winner on the pitch, but off it, she was. She was recognized by Caf and heralded across the world before the Fifa nomination," Anthony told Goal.
"Lots of this stems from what happened during and after the Awcon, where again, the bonus debacle embarrassed the nation.
''We may never know what really happened in detail, and she too has admitted to not fulfilling a clause to send her post tournament report, however, all these I believe this could have been solved amicably.
FIFA World Coach of the Year voting is open to everyone and Florence Omagbemi is up for nomination. Do your thing people 😉. https://t.co/fiB7Q2guB4

— Janine Anthony (@ChiquaDiva) August 23, 2017
''Omagbemi has an enviable resume and remains one of the rare breeds in women's football. For her reapplying and then not get shortlisted means she wasn't deemed good enough. But she's good enough by Fifa as one of the top 10 coaches in the world for. Again, the NFF does find a way to make a mockery of its image it tries to rebrand."
Omagbemi's fate of winning the prize scheduled to be announced in October lies heavily on votes from national team coaches, captains, fans, and selected media.
But she faces stiff competition from Wiegman who led Netherlands to European Women Championship glory on home soil and Precheur's Olympique Lyonnais secured the Uefa Women Champions League trophy.
In the face of rejection by her country's FA, she will be hoping for huge backing, especially from Nigeria and her continent to become the first African in history to win the award since its inception in 2010.
Omagbemi is up against Olivier Echouafni (France), Emma Hayes (Chelsea Ladies), Ralf Kellermann (Wolfsburg), Xavi Llorens (FC Barcelona Femeni), Nils Nielsen (Denmark), Gerard Precheur (Olympique Lyonnais Feminine), Dominik Thalhammer (Austria), Sarina Wiegman (Netherlands), Hwang Yong-Bong (Korea DPR) for the award.