Karim Benzema
Real Madrid striker Benzema receives Cantona support over France exile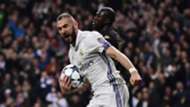 Eric Cantona has voiced his support for Real Madrid striker Karim Benzema, who cannot find favour with France boss Didier Deschamps.
NxGn: The world't top 50 teenage talents
Since being accused of conspiracy to blackmail against international team-mate Mathieu Valbuena in the autumn of 2015, the forward has not featured at all for his country. Officials at the FFF have rejected the notion that the Madrid ace is banned, but the Manchester United legend, who had an acrimonious relationship with the national side, is not so certain.
Indeed, Cantona drew parallels with presidential candidate Francois Fillon, who stands accused of corruption charges related to paying his wife and children significant salaries for apparently little work.
"France is a very strange country. If you're indicted, you are banned indefinitely from the national football team, but you can still run for the presidency," Cantona mused to Eurosport. 
"Francois Fillon once suggested cancelling a match if people were disrespecting the national anthem. I suggest that we cancel the election when the candidates are disrespectful of morals and ethics."
Benzema ranks eighth in France's all-time top scoring charts, having found the net 27 times in 81 games for his country – seven more than Cantona, who played only 45 times for Les Bleus.
​