Real Madrid
'Real Madrid mean everything to me' - One-club man Nacho wants to make Blancos history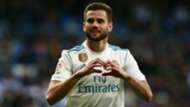 Real Madrid's one-club man Nacho has underlined his commitment to the Liga giants, as he reflects on a breakthrough year with both club and country. 
The 28-year-old defender is almost unique amongst his team-mates in never having left the Santiago Bernabeu. 
While fellow academy graduates such as Dani Carvajal, Lucas Vazquez and Borja Mayoral have all spent time away from the club in their bid to gain first-team minutes, Nacho remained even as the likes of Sergio Ramos and Pepe monopolised the centre of defence. 
Now, with Pepe gone and playing a much bigger role in the first team, the centre-back is delighted to be leaving his mark with the Merengue.
"Real Madrid mean everything to me," he explained to  Goal .
"Other people in my position would have probably made different choices. For example, back in 2016. That was a summer in which I had to make a decision because I wasn't playing as much as I wanted to. 
"But I talked to the club, to Zidane, they showed faith in me, and I think the easy thing would have been to leave, because then you get to play for certain. But in the end, you never know. 
"I was looking at other offers from clubs and then I looked at Madrid, and chose home! Don't ask me why. Some might say it is settling, but no way! 
"I was the first to feel sad when I didn't get playing time, and the man who most wanted to make it at Real Madrid. It was the best decision I have ever made, no doubt. After that I won two more Champions Leagues, I've played around 70 more games with Real Madrid since then, I am in the Spain team." 
Few players in history have had the privilege of both starting and finishing their career in the ultra-competitive environment of the Bernabeu, but Nacho admits that spending his entire career at Madrid would be a dream come true. 
EXCLUSIVE: Nacho on Spain form, Iniesta and the World Cup

"I am close to being able to play the most important trophy for any player." Goal spoke to Real Madrid C.F. defender Nacho Fernández Iglesias about Spain's form, his relationship with Julen Lopetegui, Andres Iniesta and the World Cup in an exclusive interview. 🇪🇸🏆

Posted by Goal.com on Tuesday, March 27, 2018
"I prefer to live and enjoy the present. But it would be fantastic, a dream to finish my career at Real Madrid," he added. 
"But football has a lot of twists and turns, I have a long contract at Real Madrid and I hope I can see it out."
Nacho has racked up 154 games since making his debut for Madrid at the age of 21, scoring nine goals. 
For Spain, meanwhile, the defender now has 15 caps, having become a fixture in the Roja side under Julen Lopetegui over the last two years.