Manchester United
'Rashford has it all but must believe' - Man Utd legend Yorke offers invaluable advice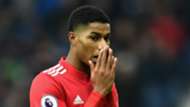 Marcus Rashford is the complete package and can shine as a central striker for Manchester United in time, says club legend Dwight Yorke.
It was just two years ago that an exciting prospect within the Old Trafford academy system was given his big break by Louis van Gaal.
Debut goals for club and country helped to raise the 20-year-old's profile, with his blossoming career now including more than 100 senior appearances and winners' medals from successful FA Cup, Carabao Cup and Europa League campaigns.
Starts and goals have dried up of late, with Jose Mourinho favouring other options, but Rashford remains an important part of the Red Devils squad and has been backed to become a star frontman of the future.
Former Red Devils striker Yorke told the youngster during a discussion on United's official YouTube channel: "Strikers often say instinctive goals are better.
"You just let it happen, let it rip and when it goes in it's magnificent. The instinct of being a centre-forward is important and that's the position I'm sure you'll end up in.
"It all comes from the instinct of being in the position at the right time and anticipating the move. You seem to have the lot: I can see all of the types of goals you are scoring, which makes it even more impressive at this early stage of your career.
"There was one magnificent goal from outside the box for England, when I thought 'wow, we've got somebody here who can score goals and not just one type of goal'. It's good to have that range. We all recognise the No.9 who just gets tap-ins, but you've got all of it and now you've added free-kicks to your repertoire as well, it's even more impressive.
"This is still an early stage in your career and, if I was you, from past experiences, I would just have a collection of my goals and I'd keep reminding yourself of the things you can do, especially if you have a little period where you aren't scoring. Have a selection of goals and get a feel-good factor about yourself.
"Even if you go through a drought, which everyone goes through, just go back and watch those goals. It gives you that buzz and a massive buzz. It puts that smile back on your face.
"It makes you think 'damn I can do this stuff!' That is what I used to do and, trust me, it works. That would be my advice. Just go back, remind yourself and look at the goals that you've scored, from the tap-ins to the wonder strikes. I would put a collection of them together, just for your private use."
Rashford has 10 goals in 38 appearances in all competitions for Manchester United in 2017-18.