Mexico
Qualified Mexico still can learn plenty from remaining World Cup qualifiers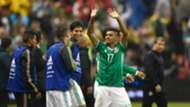 Upon returning from his post-Gold Cup break, Mexico coach Juan Carlos Osorio looked refreshed.
In offering an explanation for his good mood, Osorio reminded reporters that he'd been able to help with his children's training sessions. He'd enjoyed the experience and said he'd be able to take some of the concepts he was learning with them to his work at the highest level. That his oldest son is 16 should illustrate just how seriously the coach believes ideas can be transferred between levels of the game and also from one region to another.
So when Mexico faces Costa Rica on Tuesday, don't look for a team devoid of passion. The coach will make some of his famous changes (he doesn't like them being called rotations any more), but they won't be for the sake of living up to his reputation or for wild experimentation. As Osorio returns to the bench after serving a six-game suspension, he'll be eager to see how players respond to challenges against the kind of teams they'll be facing in Russia.
The Ticos are one of those teams. While closing out qualification against Trinidad and Tobago and Honduras, currently the bottom two teams in the Hex, may not try El Tri, Costa Rica certainly will. 
Osorio hopes that no matter if he selects a team full of veterans or goes with youth and fresh faces, or some blend, that his players will continue learning no matter the result.
"Football as I play it never will stop being unpredictable, having this randomness that can surprise you at any moment," Osorio said in a news conference Monday. "Our idea is very brave, always going out on the front foot to look for every game. Obviously this implies that there's plenty to improve. We're going to have very good games, other times not as much and we're going to learn and keep improving."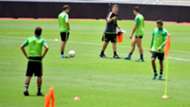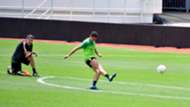 Mexico needs to improve. That was obvious this summer when the team was outclassed by an alternative Germany side that went on to win the Confederations Cup and then when El Tri saw their own alternative side falter in the semifinals of the Gold Cup. It can only get better by playing together and seeing the individuals that form the team excel on their own. Osorio and his staff can control only one of those things, and the opportunities between now and the enormous test of the 2018 World Cup are surprisingly few. 
That doesn't mean tossing the rest of qualification aside. While Mexico's coaches have been clear that the focus already has shifted toward the summer showpiece and getting Mexico to a fifth game in that tournament for the first time on foreign soil, there are games to be played locally. You have to wonder if privately, despite his convincing statements that the criticism that has followed him at every stage of his Mexico career hasn't irritated him, Osorio would be thrilled to top the 22 points Ricardo La Volpe achieved in qualifying for the 2006 World Cup. That would give him a number to point to as success for his methods.
"The first goal is to finish first in the Hex," Osorio said. "I think we're on the way and have every chance. How do we do it? Like I've said before, taking every game how it comes. Today the most important is the Costa Rica game, and we're going to take it on in this way."
The truth is while Mexico has shown its supremacy in the region, knows there's still plenty to learn. The defense remains a big question, and after Bryan Ruiz and Marco Urena torched the United States, the Tico front men could again find joy against a Mexico defense that, like the U.S., doesn't have a rock solid center-back partnership. The midfield will be without the injured Hector Herrera, testing depth at a position where Mexico was overrun during the Confederations Cup, especially with Celso Borges a threat getting forward for Costa Rica. And out wide, where El Tri have few resources, Costa Rica fullbacks Cristian Gamboa and Bryan Oviedo will get forward to provide plenty of learning experiences for whoever Osorio puts wide.
Tuesday will be a chance to learn. So too, goalkeeper Guillermo Ochoa said, will Wednesday and Thursday, the October qualifiers and the friendly games that come.
"The team, over the long haul of this process, has gone through a lot of interesting things. We're very clear on the style of play," Ochoa said Monday. "I think discussions with the coach and his openness have been very obvious and this has helped us understand the opponent on and off the field.
"There are very good things that have been executed and others that, as always, we have to correct, clean up details, try to get better every day. That's how it's going to be from here to the World Cup."