Manchester United
Pogba urges Man Utd to 'help each other' amid reports of rifts and divides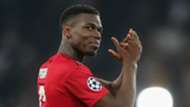 Paul Pogba is looking for Manchester United to "help each other" after facing accusations of divisions within the camp this season. 
The opening to the Red Devils' 2018-19 campaign has been played out against a backdrop of reports of in-fighting and rifts between certain players and coaches. 
The battling spirit on display in a dramatic 3-2 victory over Newcastle prior to the international break helped to silence some of those critics, but there is still plenty of work to be done. 
Pogba is aware of that and is looking for a united front to be shown as Jose Mourinho's side seek to use a remarkable victory over the Magpies as a springboard to bigger and better things. 
The France international midfielder told Sky Sports: "You never know what's going to happen in the Premier League, and that's what makes it the most interesting league in the world. 2-0 down, coming back to 3-2, is crazy you know. 
"The game is not finished until 90 minutes, you just cannot stop because every situation can change. Premier League is crazy, you have to be focused for 90 minutes, and always in every game you have to give your life. 
"Everybody has a part, the goalkeeper, the striker, everyone, just to make the effort for the player next to you. The guys see it, and will make more effort. 
"I see this team-mate make this run just for me when I'm not in the position; it just gives you energy to make the run too, to tackle to make the space for the other one too. It's just like team spirit, you have to help each other, and that's how you win." 
United's collective will to win is certainly set to be tested over the coming weeks, with crunch clashes approaching in Premier League and Champions League competition. 
The first of those comes at Stamford Bridge on Saturday, with Pogba calling on Mourinho's men to enjoy the big occasion against Chelsea and play without fear. 
The World Cup winner added: "For me, those games are the best games to play. You play against the best players, you play against a big club, a big story. You play football to play those big games with a lot of pressure. That's what you want to play. 
"You can see this season [Chelsea] have a lot of possession obviously, they are winning, they have one character you cannot miss in Eden Hazard, they say he is on fire, this time he is probably the best player in the PL right now. 
"The team is going well, they have good results, for us we come back from the Newcastle game, 3-2 winning at home, we need points, so it's going to be a tough one. I think they need points, we need points. 
"The game is going to be very hard, we're playing away. It's a Chelsea vs Man Utd game, you know, so it's a big one."