Singida United
Pluijm: Singida United need to win remaining matches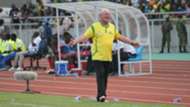 Singida United Head Coach, Hans Van der Pluijm has admitted that his players have lost morale which has led to a run of poor results.
Singida United currently sit fourth in the Premium League table with 36 points from 22 games.
Speaking during an interview with Goal, Pluijm revealed that they had big hopes this season of winning the league title but those hopes have disappeared and the gap between his team and the big guns Young Africans, Simba SC and Azam is not easy to close.
"We have played many games but earned a few points, the remaining matches are very important for us to stay in a good position in the League when the season ends", added Pluijm.
Singida United lost 1-0 at home to Stand United 1-0 and earned a barren draw against Ndanda FC in their last two games.