Arsenal
Please retire, Arsene - before you destroy everything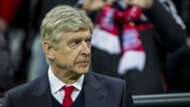 ---
COMMENT
---
Before the scheduled 15th and final round of the one of the most brutal bouts in boxing history, Joe Frazier's trainer, Eddie Futch, nobly decided to spare his fighter any more pain at the hands of Muhammad Ali and told the referee to stop the fight. Frazier was furious. He wanted to keep fighting. Futch put his arm around Frazier's shoulder and softly said, "It's over. But no-one will ever forget what you did here today."
'The Thrilla in Manilla' came to mind while watching Arsenal manager Arsene Wenger declare on Friday that he plans to continue coaching next season, "whether it is here or not." The Frenchman literally doesn't know when to quit.
How Arsenal should rebuild this summer
His spirit is admirable but he now risks ruining his legacy completely and it would be heart-breaking if some fans end up associating Wenger with annual exits at the Champions League round of 16 than the scintillating football that took the English game by storm two decades ago.
Nobody knew what to expect when he arrived at Arsenal from Nagoya Grampus Eight in 1996. Some didn't even know who he was. The famous 'Arsene who?' headline may have been apocryphal but it perfectly captured the suspicion with which he was treated. He was very different and widely distrusted. Yet he was soon hailed as a revolutionary, on and off the field, changing the way players both played and prepared for games.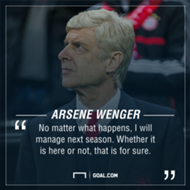 Wenger led Arsenal to two league-and-cup doubles (1998 and 2002) but what was even more impressive than the fact that Wenger conquered English football was the way in which he did it. Under Wenger, 'Boring, boring Arsenal' became become 'beautiful, beautiful Arsenal'. The Frenchman was nicknamed 'The Professor' for his studious, methodical approach to the game but he was also an artist, and the 2004 'Invincibles' were his masterpiece.
The team of Vieira, Pires, Bergkamp and Henry played wondrous, attacking football. As Brian Clough memorably quipped, "Arsenal caress a football the way I dreamed of caressing Marilyn Monroe."
The shame, obviously, is that Wenger hasn't managed to recreate the same success in the second decade of his remarkable tenure. Excellence has now given way to mediocrity. Where Arsenal were once revered, now they are ridiculed. Wenger was once ahead of the game, now he has fallen behind.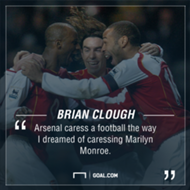 Unsurprisingly, he still thinks he can catch up. But the game has changed - and he has not. It happens to all great coaches. There is no shame in that. The shame would be if Wenger, at the age of 67, stays on beyond the summer and plaudits are replaced by pity.
Indeed, that process has already arguably begun. "Arsene looked particularly wounded," former Arsenal defender Martin Keown lamented after the 5-1 loss at Bayern Munich on Wednesday. "I feel for him; he almost needs to be protected from himself."
Wenger denies dressing-room row
Just like Smokin' Joe on that famous night in Manilla in 1975, Wenger looks like he doesn't know his time is up; that he would only be hurting himself by battling on.
So please, Arsene, leave now and retire, on your own terms, before someone else has to take this decision for you. Go now, for the good of not only the club you love but also for the good of yourself. Do this before any more damage is done; so that no-one will ever forget what you did for Arsenal - and 'The Beautiful Game'.