8 Cup
Player Perspective: Young vs Old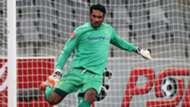 ---
PLAYER PERSPECTIVE:    SHUAIB WALTERS       Follow on Twitter
---
Last week's MTN 8 second leg semi-final approached with plenty of hype and both matches did not disappoint.
With plenty of excitement already, the media did a fantastic job with the build-up. This was made more interesting by the teacher/student angle, with coaches Gavin Hunt and Eric Tinkler being the teachers and coaches Benni McCarthy and Fadlu Davids being the students. 
While interesting, I think the media is putting way too much emphasis on "young vs old" coaches.
Football has evolved and coaches are no longer only making a name for themselves at for example, 50 years of age, but younger coaches know the game in a different way.
Having just retired, they have an advantage, as they would know exactly how players feel after playing three games in seven days for example. They would be able to look at the game tactically and see what is lacking.
To me, what could be a potential stumbling block for young coaches is the level of respect from players.
It can be difficult for players to transition from respect for a teammate or another player to now having to have a different level of respect for the same person as their coach.
Speaking from experience, I had to adjust as coach Benni used to be my teammate in the 2010 Fifa World Cup. We used to crack jokes and socialise as teammates.
Both, myself and coach Benni had to adjust to this new dynamic. I am very pleased to say that with my whole team I feel players have become a lot more professional and can adapt when required, which has been very advantageous to our success this season.
The game between Supersport United and Maritzburg United saw SSU come out guns blazing, which awarded them their first goal early in the game.
I think Maritzburg is a good team and they are doing well, but I wanted to see how they would react to an early goal because they would always frustrate teams allowing them to push numbers forward and then hit them on the break. This is a good tactical move considering the speed they have going forward, however this time was different after conceding early.
As I suspected, they couldn't respond because they played the same high tempo game and conceded a second goal. This game once again proves that possession statistics means nothing if the ball does not hit the back of the net!
With our MTN8 semi-final against Bidvest Wits, Gavin Hunt made it clear that he was looking to hammer us 3 /4-0. Well sorry Gavin, not on my watch!
Thankfully our technical team did their homework! After beating them twice we knew how to plan against them- we have managed to beat them 3 times in a one month period.
I feel that their lack of respect for our team as a worthy contender was part of their downfall.cAfter beating them in the league game, I think they thought we got "lucky" and they did not feel the need to go back to the "drawing board".
In football, when you have the mind-set that you were just unlucky to lose, you tend to go back and do the same thing hoping your luck will change. This can be disastrous.
I am a firm believer that when you are unlucky, you work even harder to change your luck.
We beat Wits three times and scored from three set pieces. That's not being unlucky, that's bad preparation and not working hard enough. The positive side is football is full of constant learning and evolution.
I want to end off by congratulating my fellow Lotto Sport Brand Ambassador, Mr Kevin Anderson on reaching the US Open final, what an achievement - May your career grow from strength to strength.
Till next week!!
This column is brought to you by  Lotto Sports Apparel