Simba
Pierre Lechantre points out areas of improvement at Simba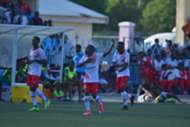 Simba newly recruited Head Coach Pierre Lechentre will focus on strengthening the defense as he starts his tenure Goal has learned.
Lechantre has revealed to Goal that he has noted that the team's defense makes a number of mistakes which gives opportunities for opponents to attack.  
Lechentre said that in the recent match against Singida United, he noticed that despite the 4-0 win, their opponents created a number of opportunities which they failed to utilize.
"I have watched a few matches and came to realize that there we have very talented strikers and I have to strengthen the defense so as not to allow our opponents to score against us," said Lechantre
Apart from the defense, the coach stated that he had no problems with the other areas, adding however that he will issue some instructions to enable the team win more goals.