eSports
Pierre-Emerick Aubameyang for Arsenal on FIFA 18 - best position, stats and potential rating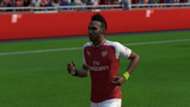 Arsenal broke their transfer record in deadline day to sign striker Pierre-Emerick Aubameyang from Borussia Dortmund for £56 million, giving Arsene Wenger yet another option in attack.
The Gunners were criticised for not investing more in defence, but now have an abundance of attacking talent after bringing in Aubameyang and his former Dortmund team-mate Henrikh Mkhitaryan.
Aubameyang is known as one of the fastest players in world football, and his lightning pace will surely cause many problems for defenders in real-life and in FIFA 18.
His Premier League version in FIFA Ultimate Team is eagerly awaited, with gamers looking to fit him into their Premier League squads, while many others will choose Arsenal in Online Seasons mode for their highly rated frontline.
Goal investigates where Aubameyang will fit in at Arsenal in FIFA 18, where you should play him, and how he will develop on Career Mode.
---
Aubameyang's best position at Arsenal in FIFA 18
---
The summer signing of Alexandre Lacazette saw Wenger continue to play with just one up front for Arsenal, with his £46.5m acquisition leading the line as Olivier Giroud watched from the bench and was used as an impact substitute.
Aubamayeng's arrival at Arsenal is likely to change that tactic, with Wenger now forced to choose where to fit in his £100m strike duo.
By default in FIFA 18, Arsenal use a 3-4-2-1 tactic with two wing-backs and Granit Xhaka and Jack Wilshere in midfield. Lacazette is supported by Danny Welbeck and Mesut Ozil. In this formation, the most likely spot for Aubameyang is to replace Welbeck and provide greater pace on the flank as well as a shooting option when cutting inside.
A switch to 3-4-1-2 allows you to pair Lacazette and Aubameyang up front with Mesut Ozil inside providing a route through the middle with his excellent passing and vision. However, neither of these formations make room for Arsenal's other big January signing, Mkhitaryan.
Accommodating Aubameyang and Mkhitaryan will most likely involve changing to a back four, removing one of the centre-backs. The 4-2-2-2 formation will allow you to play these two strikers as well as Ozil and Mkhitaryan in their preferred CAM positions.
Another option is to play a variant of 4-3-3 with Welbeck, Lacazette and Aubameyang all in a speedy front three. This could be particularly effective if the opponent has slow centre-backs or weak full-backs.
---
Aubameyang's Arsenal stats in FIFA 18
---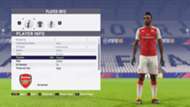 With Alexis Sanchez leaving for Manchester United, Aubameyang is now the highest rated player at Arsenal. His 88 overall rating is higher than than of Ozil (87) and Lacazette (85). The departed Olivier Giroud and Theo Walcott had overall scores of 82 and 80 respectively.
Aubameyang's biggest attribute in FIFA 18 is his pace score. The Gabon international has the joint-highest pace score in the game, 96, which he shares with Jonathan Biabiany, who is on loan at Sparta Prague from Inter Milan.
He is comfortably the quickest attacking player at Arsenal, but is just ahead of Hector Bellerin, who is a 95-pace, 81-rated right-back. If Aubameyang is used in a front three, he could play in front of Bellerin in what would surely be the fastest wing in football.
Aubameyang finished the 2016-17 Bundesliga season as top scorer with 31 goals, meaning he also has a high shooting score - now the best at Arsenal, just ahead of Lacazette. His four-star weak foot also means he is capable of scoring goals on either side, while he is also a capable dribbler and can perform three star skill moves.
| Player | Pace | Shooting | Passing | Dribbling |
| --- | --- | --- | --- | --- |
| Pierre-Emerick Aubameyang | 96 | 84 | 75 | 81 |
| Alexandre Lacazette | 86 | 83 | 71 | 85 |
| Danny Welbeck | 84 | 74 | 71 | 78 |
| Mesut Ozil | 71 | 74 | 87 | 86 |
| Santi Cazorla | 65 | 76 | 85 | 85 |
| Aaron Ramsey | 68 | 75 | 79 | 80 |
| Jack Wilshere | 71 | 69 | 80 | 82 |
| Alex Iwobi | 75 | 61 | 66 | 88 |
---
Aubameyang's Arsenal FIFA 18 potential
---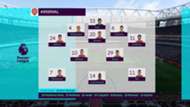 Many pundits were surprised at Wenger for spending so much on a 28-year-old player, as he probably has reached his potential ability. This is definitely true in FIFA 18, as Aubameyang has a current rating of 88 and also carries the same potential score. As a result, he will not get any major stat increases in Career Mode.
The same is true of Ozil and goalkeeper Petr Cech, who have peaked at 87 and 86 respectively. Lacazette is 26-years-old, and thus has the potential to improve in-game, meaning that with enough gametime, he can become an 88-rated striker, just like Aubameyang.
Alex Iwobi, Reiss Nelson and Edward Nketiah are the players who can develop the most at Arsenal, all ending up in the mid 80s. However, even as players progress in Career Mode, no-one will end up higher than 88 at the club, meaning Aubameyang will remain the Gunners' highest rated player.